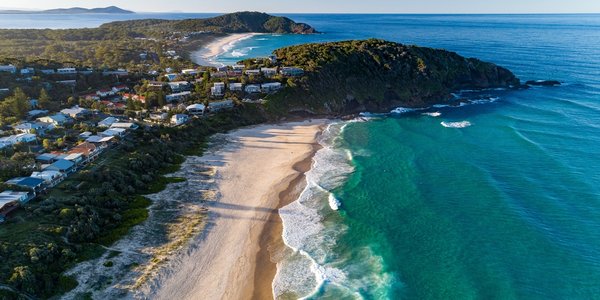 Discover Bluey's Beach
Three hours North of Sydney, in the Pacific Palms area of NSW, the Bluey's Beach community thrives on the knowledge that it might just be home to some of the best beaches in Sydney. Considered by locals to be reminiscent of Byron Bay 30 years ago, Bluey's Beach charms with a laid back atmosphere, soft sands, and zesty sets, in a unique setting of bush meeting beach.
Bluey's Beach
At 900 metres long the beach, which can only be accessed on foot, is framed by headland reaching 216 metres high on either side. Along these slopes is flourishing vegetation and other wildlife, such as cattle. One rumour purports that the locality was named for a cow who became a little too adventurous along these clifftops, and another states that it got its name from a dog who herded cattle there. Either way, Bluey's Beach and its surroundings offer a truly tranquil and surreal atmosphere to all who visit.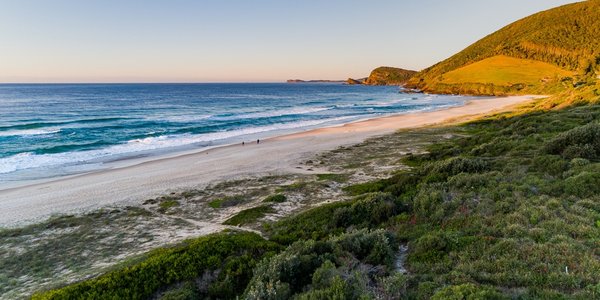 Boomerang Beach
Unlike Bluey's Beach, Boomerang Beach is patrolled by lifeguards during peak season so it is preferred by families. But the water should still not be underestimated – surfers from all over the world flock here to test their skills and sample that rich East Coast Aussie swell.
Elizabeth Beach
Elizabeth Beach, a 1 km sandy stretch nestled in amongst the Booti Booti National Park, excels itself with crystal clear waters, making it great for a little underwater sight-seeing – aka snorkelling! It is also patrolled during peak season, giving it that family-friendly edge (even over Boomerang Beach). There are two permanent riptides to the North and South, which shouldn't be ignored but typically the surf is relatively calm.
History of Bluey's Beach
Early Settlement
Before European settlement, the area around Bluey's Beach was inhabited by the Worimi people, who were known for their knowledge of the land and sea. As is custom for Aboriginal Australians, the Worimi people had a deep connection to the land, and their traditional lifestyle was centred around hunting, fishing, and gathering.
Due to its consistency as a resource, the Worimi people favoured a diet of marine animals, particularly shellfish; land animals and vegetables came second. This highlights the importance of the Bluey's Beach area for the Worimi people, as this preferred diet would have been readily available there.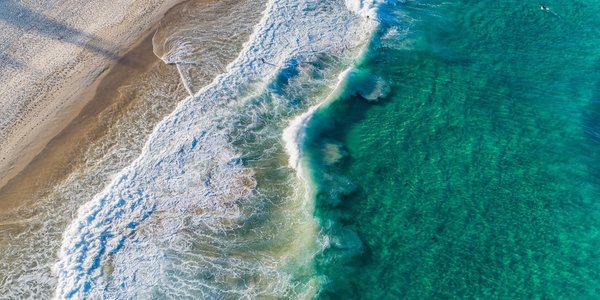 European Settlement
The first Europeans to explore the area around Bluey's Beach were British navigator James Cook and his crew, who sailed up the North coast in April 1770. In 1799, Matthew Flinders also sailed past the area. But it wasn't until 1854, when ex-convict William Bramble and his family became the first European settlers in the area.
Other prominent settlers in the area were the Godwin family, who took up land at Cape Hawke in 1863. And the Newman family, who occupied most of the land east of The Lakes Way, between Smith's Lake and Elizabeth Beach in the 1900s and 1910s.
In the early days timber was the main industry, with many seeking employment from the timber mills of Bungwahl. Fishing was also popular but encountered limitations concerning preserving and transporting the fish.
Development of Bluey's Beach
By the 20th century, a small village had begun to develop in the area. But its economy became rattled by the effect the Great Depression had on the timber industry. It wasn't until World War II, when a resurgence of demand for timber saw the region prosper once more.
Significantly, a man named Wally Williams – with his sights set on its touristic appeal – purchased land in Elizabeth Bay, in 1946. Williams divided up the area between Wallis Lake and the beach into a hundred plots that were snapped up by investors and retirees, and also set up a shop. Thereafter, tourism in the area began to flourish.
Local eateries and campsites began popping up in the 1950s, a real estate agency was established, the Pacific Highway was rerouted through Karuah and Bulahdelah and a bridge over the Karuah River was created. Developer, Charles Degotardi, made it his mission to promote the up and coming holiday resort in the late 1950s. In 1959 it was rebranded 'Pacific Palms' by a local progress association. Clearly, every effort was made to put Bluey's Beach on the map as a top tourist destination.
Although population growth was evident in the 1960s and 70s the overall development of Bluey's Beach was considerably slow. As is clear from the fact that the local school, Charlotte Bay, didn't receive electricity until 1967 (thirty years after it was established).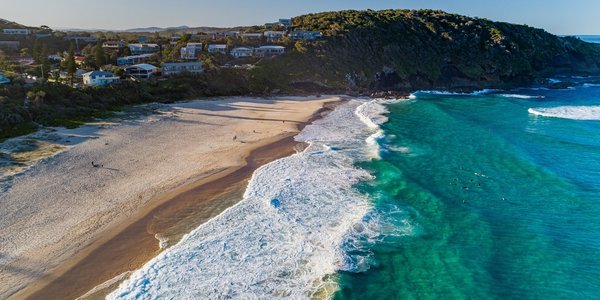 What Makes Bluey's Beach Special?
Bluey's Beach is truly unique. But what makes it so special?
Natural Beauty
One of the main highlights of Bluey's Beach is its stunning and unparalleled natural beauty. The beaches are surrounded by dense forests and rugged cliffs, providing a stunning backdrop for a day on the sand. Whether that's getting stuck into a good book, marvelling at the dolphins and whales frolicking on the horizon, or splashing about in the clearest sea.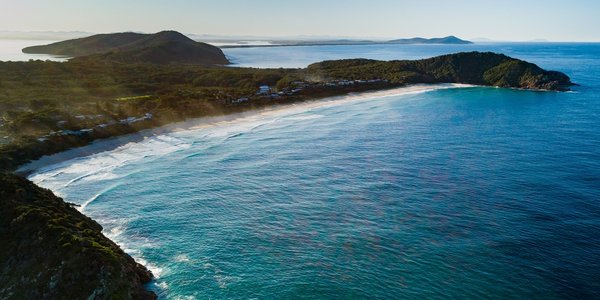 Laid Back Atmosphere
Another aspect that sets Bluey's Beach apart from other beach destinations, is its peaceful and relaxing vibe. While some beach areas can be crowded and busy, Bluey's Beach is a more tranquil and serene destination; where at times, one can walk along the shore and not see another soul.
It is the perfect place to unwind in and escape from the non-stop current of city life, which explains why so many Sydneysiders head up to this Mid-Northern paradise to spend their long weekends.
Local Culture
Finally, Bluey's Beach is special because of the local culture that surrounds it. As we have explained, the area is rich in indigenous history and culture, and learning about it is an important part of conserving and preserving it. This can be done by taking guided tours, or visiting one of the many cultural sites in the area.
Furthermore, there is also a vibrant surfing culture at Bluey's Beach, which demonstrates that people in the area have – as they have always had – a strong connection to the ocean.
Things to do at Bluey's Beach
If you're planning a visit to Bluey's Beach – and so you should – then here are some of the top things to do in the area:
Enjoy the Water
Since Bluey's Beach is known for its excellent surfing conditions, why not have a go? There are several surf schools in the area that offer lessons and equipment rentals, making it easy to get started. That is if you don't already consider yourself a seasoned pro, in which case you're probably halfway to the water as we speak!
If surfing isn't your thing, you can still enjoy the water by going for a swim, hiring a paddleboard, or casting a line out. That's right, Bluey's Beach is a fisherman's paradise with flathead, bream, jewfish, bonito, bluefin tuna, and many other marine animals submerged in the depths. Charter a boat for the day or sign onto a fishing trip.. who knows what you'll turn up.
Explore the National Park
Being in close proximity to the Booti Booti National Park, Bluey's Beach allows visitors to embark upon an array of outdoor activities including hiking, birdwatching, picnicking, and mountain biking. The national park is also home to a variety of wildlife; the chance to glimpse wallabies, kangaroos, kookaburras, rainbow lorikeets, and other native birds, makes it the perfect spot for nature enthusiasts.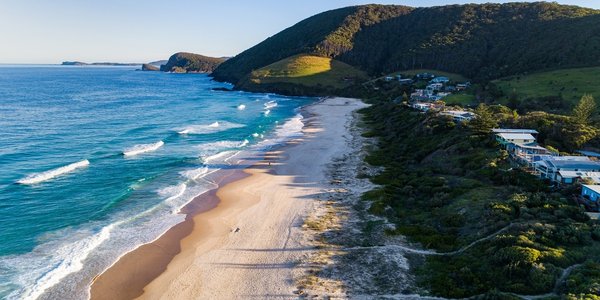 Dolphin-ately Book a Cruise
Remember those dolphins we mentioned earlier… well what about getting to know them, rather than simply squinting at them from the shore? From October to June, it is possible to spend your morning swimming with a pod of wild Common or Bottlenose dolphins, during a dolphin cruise. I know what I'd be doing at Bluey's Beach that's for sure…
Accommodation and Dining
Bluey's Beach offers a range of accommodation options, from campsites and cabins to luxury resorts. There are also plenty of dining options in the area, including seafood restaurants, cafes, and pubs.
For those who prefer to cook their own meals, there are several grocery stores and markets in the nearby towns of Forster and Tuncurry. We recommend bundling up any and all tasty goodies and heading to the beach for a dreamy and scenic, sunset picnic.
If its a culinary adventure for those salivating taste buds you're after, then jump in the car and hit The Great Lakes Food Trail. Along the trail you'll visit local farmers and food producers; children can feed the animals whilst you indulge in buffalo mozzarella, artisan cheeses, honey, oysters, local wine, and much more.
Our thoughts...
In conclusion, Bluey's Beach is a unique and special destination that is unlike any other beach area in New South Wales. With its rich culture, relaxed atmosphere, vast range of outdoor activities, and stunning scenery, it is the perfect place to immerse yourself in the effortless charm and natural beauty of the Australian Mid North Coast.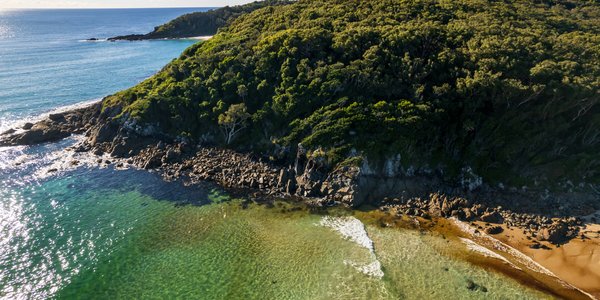 Interested in finding more like Wattamolla Beach? Why not try one of our Scavenger Hunts in Sydney - work as a team to overcome cryptic riddles and allow yourselves to be swept off the beaten track on a journey to discover all the quirky bars and unusual sites Sydney has to offer.