Flat-pack or prefab houses might seem like a very modern phenomenon, but one of Melbourne's earliest examples arrived in 1933 at the ripe old age of 178-years-old. 
Cooks' Cottage (or Captain Cook's Cottage) was built by James Cook's father in 1755 in the village of Great Ayton, North Yorkshire in England. Although evidence is scant that James Cook ever lived there, the house has become synonymous with the controversial explorer and navigator. 
The cottage was originally built by James Cook's father, and was sold to Sir Russell Grimwade for the sum of £800 in 1933. It was dismantled and transported to Australia via trucks, trains and steam liner, where it was rebuilt brick-by-brick and opened to the public to mark Melbourne's 100th centenary. 
Psst: Captain Cook's House isn't the only monument in Melbourne to have been built to commemorate Melbourne's 100th centenary. The Pioneer Women's Memorial Garden opened the same year - read more here.
Captain Cook's Cottage: Yorkshire Roots
Although Cooks' Cottage is frequently referred to as Captain Cook's Cottage, it actually has very little to do with the Yorkshire-born explorer. The house actually belonged to his parents, James and Grace Cook (née Pace), and although it wasn't their first house, it was almost certainly their most comfortable.
When James Cook was born on 7 November 1728 in Marton, Yorkshire, nobody would have predicted that the latest addition to the Cook family would one day be world famous. 
On that bleak, early winter day, James Cook had joined a pitiful world of near poverty. As well as his parents, he had one older brother, and the family lived in a cramped, mud-walled cottage with a dirt floor and few windows to help preserve precious heat. Grace gave birth to eight children over her lifetime, but only half survived into adulthood, including James himself.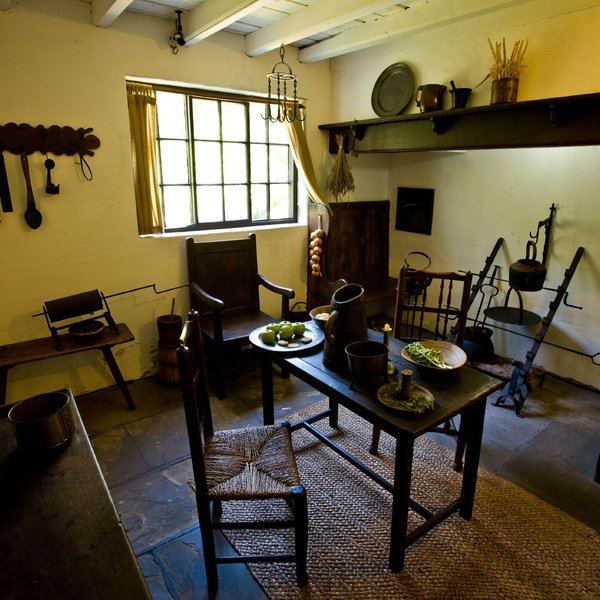 James Cook senior was a hardworking man with Scottish roots. In 1736, he brought his little family to Great Ayton, a Yorkshire village where he had secured employment. As a bonus, he was able to send young James to school at his employer's expense. 
In 1755, the same year that the future Captain James Cook enrolled in the Royal Navy, James Cook senior built Cooks' Cottage, taking care to inscribe the year in the building's stonework. The house overlooked the River Leven where the young James Cook would allegedly go fishing when visiting his parents.
Going, Going, Gone: Cooks' Cottage Travels 10 Thousand Miles
On Thursday 28th June, 1933, the villagers of Great Ayton crammed into the Buck Hotel to attend the auction for Cooks' Cottage. The house's legacy of being connected, however distantly, to one of Britain's most famous explorers meant that many people, young and old, had come to witness its fate. 
The house was being sold by the Dixon brothers, who had no connection to the Cook family. Originally, Cooks' Cottage had been placed under strict conditions that any buyer could not remove the building from England, although this was later waived at the auction. 
Bidding apparently started at £300 but quickly rose to £800. The generous buyer was Sir Russell Grimwade, an Australian chemist, botanist and philanthropist who gifted Captain Cook's Cottage to the people of Victoria, Grimwade's home state. It was decided that Cooks' Cottage would be rebuilt in Fitzroy Gardens, Melbourne, to commemorate the centenary of the city.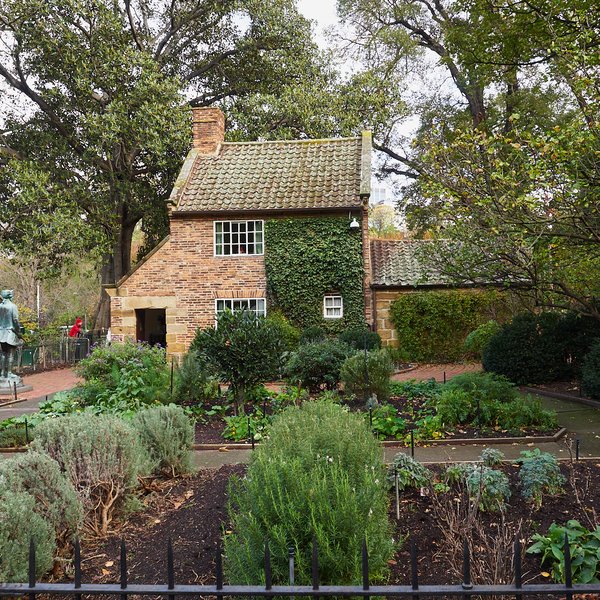 Before it could be taken to Melbourne, however, there was the costly and time-consuming job of dismantling the cottage. 
Every beam, rafter, flagstone and brick was numbered as it was painstakingly removed and placed into wooden crates. Attention to detail was paramount: according to one visitor to Captain Cook's Cottage in 1935, after it had been rebuilt, even the creak in the staircase had been preserved. 
The only parts of the house that were left behind were 'modern additions' and an inglenook (a built in area to hold a fireplace) that had been built after the Cooks' departure. 
According to the Hull Daily Mail, the London and North-Eastern Railway Company assisted with the transportation of the wooden cases which weighed around 150 tons. The crates were taken by a fleet of lorries to a train which would deliver them to the port of Hull, where the Commonwealth and Dominion Liner Port Wellington was waiting. The ship left port on the 24th of February, carrying Captain Cook's Cottage 10,471 miles (16851 kilometres) to Australia. 
Captain Cook's Cottage: Colonial Controversies
"As an old Yorkshirewoman, I think the removal of the Cooks' cottage will for ever be a blot on the history of this country."  – Yorkshire Evening Post, Thursday 07 June 1934
Even in the 1930s, not everyone was happy about Cooks' Cottage being removed from its home in Great Ayton. Some locals, such as the above example, complained that the house belonged to the village and British history. Others were excited about the move, seeing it as a strengthened tie between the two Commonwealth nations.
Nobody, it seems, was quite as excited about the possibility of the cottage being taken to Australia than one of the Dixon brothers' wives:

"I am pleased that the old cottage is going to Australia, which has such an historical association with Captain Cook. They are so sentimental and loyal in Australia that I think they would have valued even the dust of the explorer's old home." - Hull Daily Mail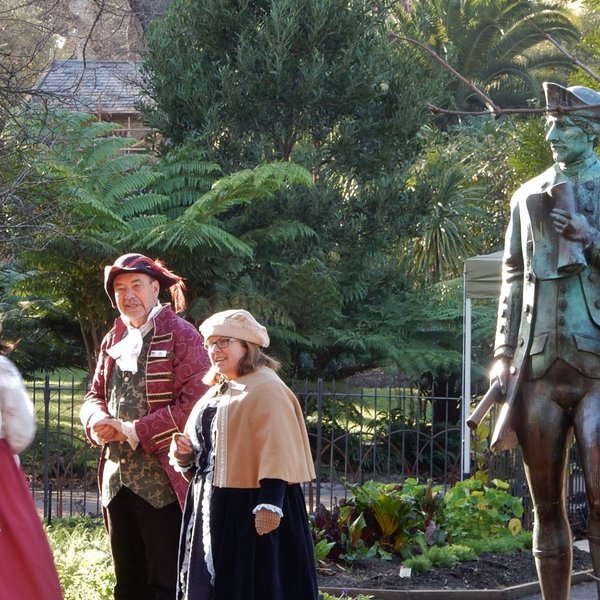 But that may have been stretching the truth. Before it had even been rebuilt, there was some discussion in Melbourne about where to rebuild Captain Cook's cottage. Some Melbournians didn't want a "humble, unpretentious little building without any architectural value" stuck beside the "stately building in Swanston Street which houses the national gallery, museum and public library". 
By the time Cooks' Cottage had appeared in Fitzroy Gardens on Friday the 19th of October 1934, however, the public seemed to have warmed to the building: "a large crowd assembled to watch the ceremony, despite the heavy rain. Prouder than others in the crowd were Mrs Arnold Dixon, of Great Ayton, who presented the original key of the cottage to Mr. Russel Grimwade." 
More recently, Captain Cook's Cottage has come under criticism. Over the years, the cottage has been one of a few colonial monuments vandalised on Australia Day (26 January). Public opinion of the once legendary Captain Cook has changed as more details of his interactions with First Nations people and Aboriginal Australians has emerged. Some First Nations people have also described the cottage as an oppressive space with a lack of information about the mistreatment of Indigenous Australians by white settlers. 
An English Garden and A Piece of Australia in Yorkshire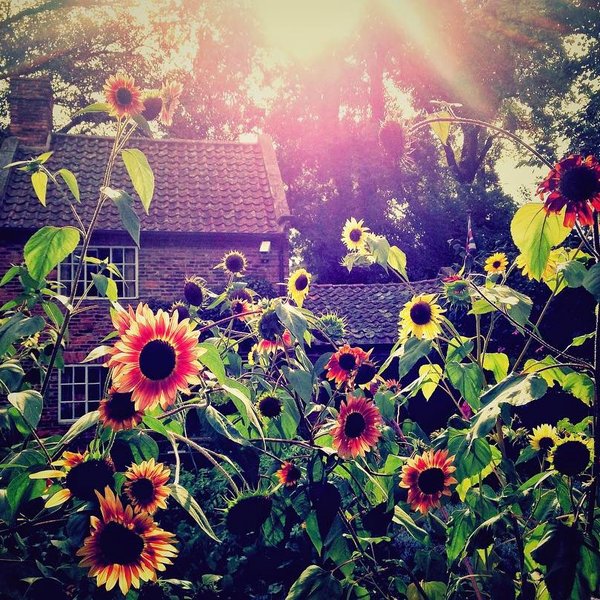 Today, Cooks' Cottage remains open, looking very much like it did back in Great Ayton in the 1700s. The exterior shows a reddish brown brick cottage, reminiscent of many in the English countryside, complete with a bespoke, traditional English garden. 
The English garden that accompanies Captain Cook's House was planned and designed before the reconstruction of the house. On Wednesday 24th of October, the Daily Gazette for Middlesbrough reported that "sweet peas, hollyhocks, mignonettes and other English flowers…have been grown in nurseries in Melbourne to plant in the garden." 
The beard of ivy that climbs one of the exterior walls was brought from Great Ayton along with the dismantled house and continues to flourish in the warm, Melbourne soil. 
As for Great Ayton, the loss of Cooks' Cottage was quickly remedied with a gift from the Australian government. A granite obelisk now stands on the original site of Captain Cook's Cottage, and is made out of granite taken from Point Hicks, the first bit of land sighted by Cook on his first visit to Australia in 1770.
Discover More about Melbourne with CityDays
Ready to discover more of what Melbourne has to offer?

CityDays have FOUR treasure and scavenger hunts in Melbourne to choose from, all of which combine the fun of an escape room with the historic facts and whimsical trivia of a walking tour!
Take the stress out of planning your visit to Melbourne and book your adventure today! 
Not visiting Melbourne this time? Don't worry, you'll find us all over the world.