The Justice And Police Museum Today
Sydney's Justice and Police Museum is made up of a pair of two former police courts and a former police station, on Albert Street, not far from the city's historic port. Together, these once formed one of its busiest legal hubs.
Today, the museum features exhibits on famous crimes and criminal cases from New South Wales' history, collections of weapons and other items taken from arrested felons, and a courtroom, charge room and cell made to look the way they would have done back in the 1890s when the complex was at its busiest.

The History Of The Justice And Police Museum
Background
In the 1850s, Sydney's waterfront was a thriving place full of life, and equally full of crime. The recent discovery of gold in NSW had led to a rapid influx of people arriving from Europe and across the world in the hopes of getting rich. Some of them probably did, but at least as many ended up in drunken fights and dodgy scrapes instead. The local Water Police Force was suddenly very busy. It was soon clear they needed a base for their operations.
Water Police Court
In 1856, the Water Police Court was completed (the first part of what has today become the Justice and Police Museum). It was a stuffy building, badly designed and poorly ventilated, but it served a purpose. By 1880 it was attending to 17,000 cases a year.
For the most part, it dealt with petty crime, but the early hearings of some more serious cases were heard there too. Most famous amongst these was that of Henry Louis Bertrand, 'The Mad Dentist.'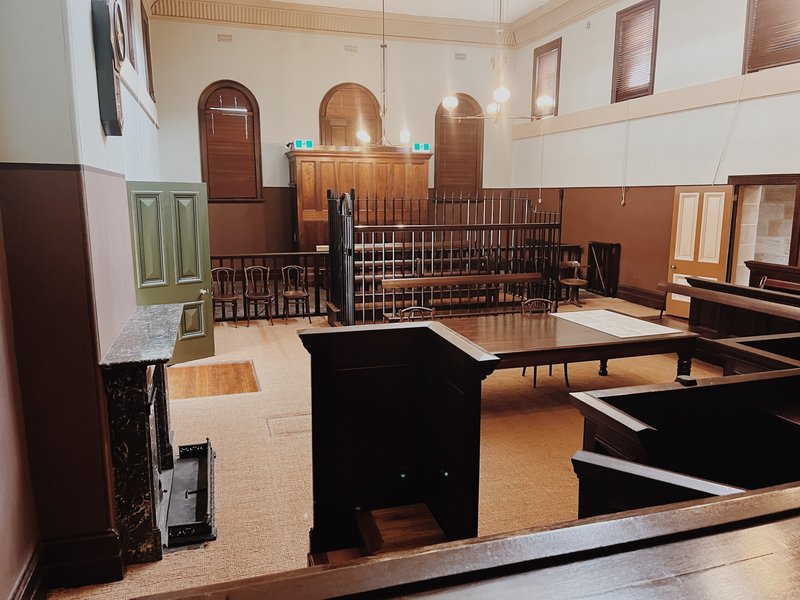 Henry Louis Bertrand was a happily married dentist living at Wynyard with his two children - or so it seemed. Behind closed doors, Bertrand was having an affair with one of his esteemed clients, the married Mary Kinder from St Leonards. 
One evening, the Bertrand and Kinder couples met to "play cards" - a night that ended with Mr Kinder displaying a serious shotgun wound to his head from what was apparently an attempted suicide. Miraculously, Mr Kinder survived - but only for a short while.
Mr Kinder died from poisoning - again ruled as a suicide - and it might have been left at that had Mrs Kinder's ex-lover, Francis Jackson, not got involved.
Jackson blackmailed the dentist, stating he would go to the police and tell them what Bertrand and Mrs Kinder had done. Unfortunately for Jackson, Bertrand got there first and Jackson was sentenced to hard labour for committing blackmail.
Less than a year later, however, Bertrand got his comeuppance. Things quickly started to look fishy. 
For one thing, Mrs Kinder moved in with the Bertrands (something the local media found most shocking during the trial). The three of them even shared a bed, including when Bertrand and his lover were "intimate". Secondly, Bertrand's behaviour was becoming increasingly erratic. He was jailed at Darlinghurst Gaol as a result where Bertrand's involvement in Mr Kinder's death later emerged. 
He was found guilty of Mr Kinder's murder and deemed insane, and spent many of his remaining years whittling pen holders out of animal bones. His creations can still be seen on display at the museum.
Water Police Station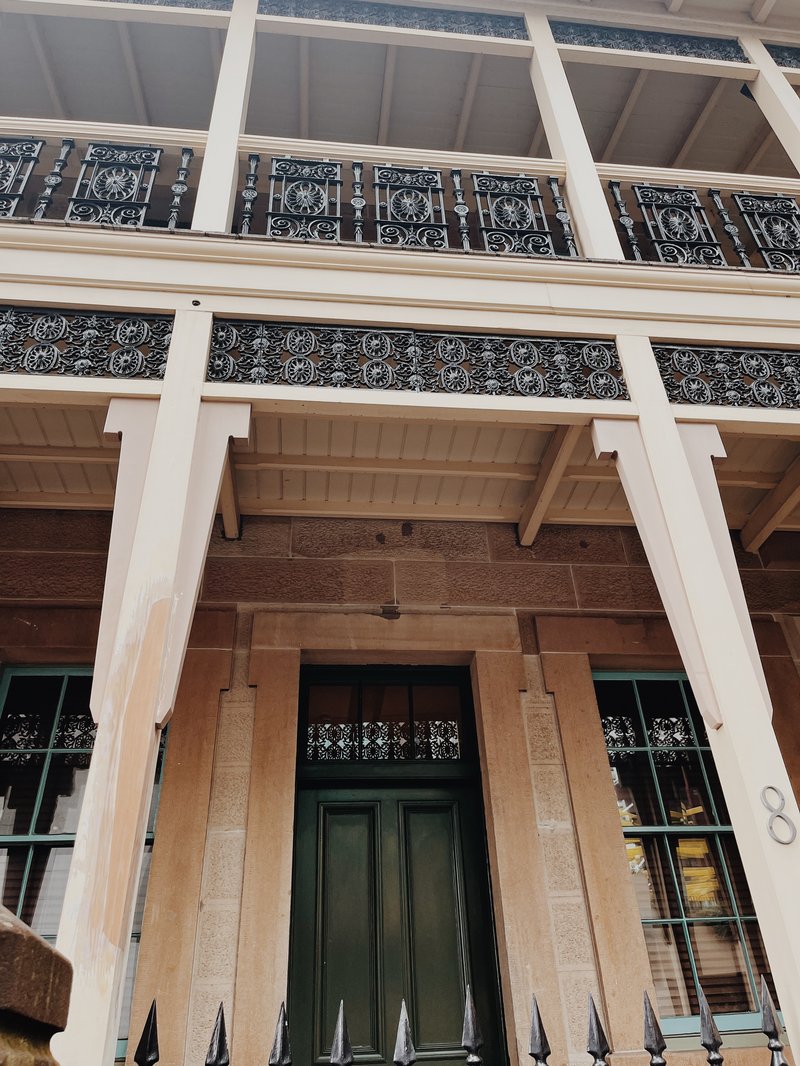 Another building was completed shortly after Water Police Court, Water Police Station. From here the local police force monitored the local laneways, warehouses, pubs and brothels.
To begin with, they were unarmed but, in 1894, this began to change thanks to the infamous Bridge Street Affray. The affray started in an attempt to apprehend a trio of armed thieves and ended in several injured policemen and only two arrests. On fleeing the police the thieves had split up. Two had made the mistake of heading directly for Water Police Station where they were then, after a fight, arrested. The third however had bolted into the botanical gardens never to be seen again.
The injuries the policemen sustained sparked a public outcry and, shortly after, they were given license to carry arms.
Police Court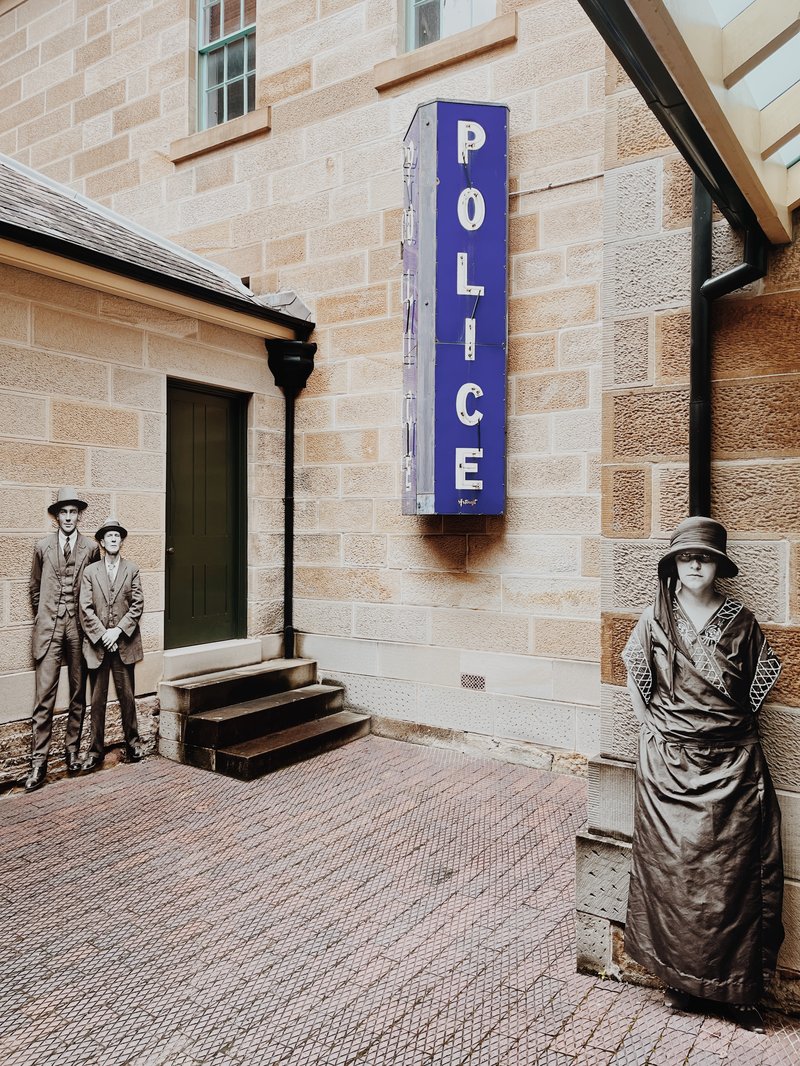 A second police court was added to the complex in 1886. This was in part needed because of the old court's bad design. Having learned from past mistakes, the architects of this new build made sure to add enough windows for good ventilation, as well as a maze of corridors to keep the public, the magistrates and the convicts separate at all times.
The Justice And Police Museum
The courts were used for their intended purposes up until 1979, and the police station up until 1985. At this point, plans were made to convert the complex into a museum. Confiscated artifacts were collected into exhibits and the old courtroom was made to look older, back the way it used to be.
The museum details some of the most fascinating criminals and criminal cases in Australian history, and features a fascinating insight into weapons, spooky criminal methods and photo archives from the early 20th century onwards.
The Police and Justice Museum also contains exhibits that showcase Aboriginal bushtrackers and their involvement in cracking missing persons cases.
The museum is a NSW Heritage site and is open to visitors on weekends, free of charge.

Interested in finding more places like this? Try one of our Sydney Scavenger Hunts - untangle cryptic clues as a team, as you are taken on a journey to the most unique, unusual and bizarre corners of Sydney.
Or learn more about historic courthouses around the world in our articles on Old City Hall Toronto and NYC's Jefferson Market Library.