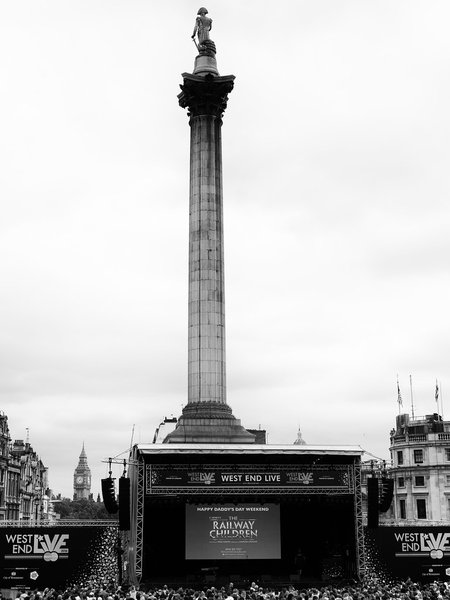 The Battle Nelson's Column Was Built For
October 1805. Combined French and Spanish fleets are headed from southern Spain to the English Channel. There objective: to provide Napoleon's Grand Armee safe passage across the sea to England, where they will mount an invasion. The British Royal Navy, lead by Vice-Admiral Nelson, is the only thing that stands in there way.
Two years earlier, alarmed by Napoleon's rapid spead across Europe, King George of England had declared war on France. Now, the British and Allied French and Spanish fleets being about to come to a head, it was to be determined whether or not this had been the right move.
Nelson apprehended the Allied fleet off the Cape of Trafalgar in souhwest Spain. His 27 ships were outnumbered by the Allies' 33 however. He would have to use all of his cunning to come up trumps.
Throwing convention out of the window, he sailed directly at the enemy's flank in two columns, hoping to split their forces in three. The plan went off without a hitch. The vanguard of the Allied fleet was separated from the other two groups and had no choice but to sail ahead to do an about turn. This gave Nelson a numerical advantage, for the time being at least.
The British fleet used this time to devastating effect, sinking 22 enemy ships whilst not losing a single of their own. They were not without their casualties however. They took heavy fire, Nelson himself being hit by a French musketeer. The Vice-Admiral did not make it to the end of the battle.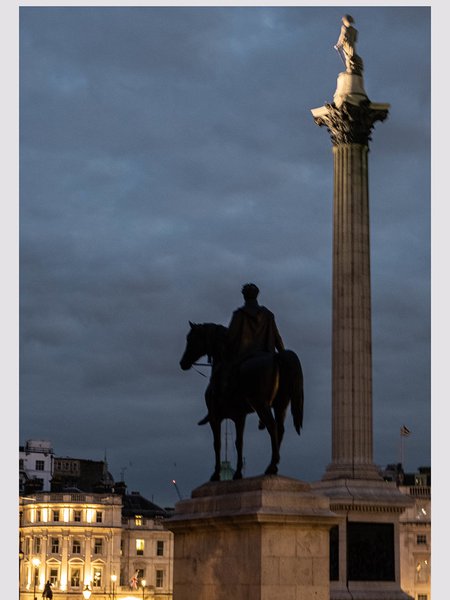 Nelson's Column Is Made
The conflict, now known as the Battle of Trafalgar, re-established Britain's control of the seas and made a martyr of Nelson. In 1838, 23 years after the final Napoleonic War ended, a group of 121 lords and MPs set up a committee to raise a monument in his honour, funded by public subscription.
A target of £20,000-£30,000 was set and, with this in mind, a competition was held for potential designs. This was won by William Railton whose design featured a Corinthian column topped with a statue of Nelson and surrounded by four lions.
Construction started in July 1840 and by November 1843 the pillar was finished- not a particularly fast build but quick enough to put Wellington Arch to shame. It was then topped with the statue and, between 1849-54, four bronze reliefs were added, each depicting a battle Nelson had been involved in. The final of these, The Battle of Cape Vincent, caused some controversy when it was discovered that its bronze had been adulterated with iron. Those responsible were jailed for fraud and the relief was completed by a third party.
Funds running low, the bronze lions were not added until 1867 and, when they finally did arrive, they were met with some backlash. One citic said the hair of the lions had 'no mass, no vigour of light and shade.' Another commented that they were difficult to tell apart and that the sculptor, Sir Edwin Landseer, appeared to have given up when it came to the paws.
Nonetheless, the years have been kind to the lions and they are today seen as an integral part of the monument. Had history gone differently however the whole structure could have been moved to another country.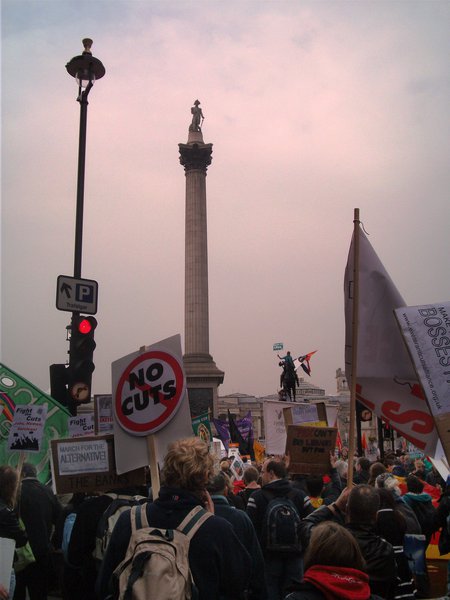 Nelson's Column: The 20th Century And Beyond
Hitler had designs on repurposing the monument to no longer celebrate Britain's victories but rather her defeats. Were his invasion of Britain (Operation Sea Lion) to have been successful he would have supposedly moved Nelson's Column to Berlin. His plans were thwarted however when Operation Sea Lion failed to get off the ground.
Since the latter half of the 20th century the column has become a place of publicity stunts and protests. It was first scaled in 1977 by Blue Peter presenter John Noakes and has since been climbed for causes ranging from anti-Apartheid to acid rain to awareness of oppressive Chinese policies in Tibet.
These protesters likely believed themselves to be climbing a 185ft structure, as per the designs. It was revealed during a 2006 renovation however that it was actually 17ft shorter than first supposed.
One much less worthy cause it was altered for was the spreading of publicity for Star Wars: The Force Awakens. Disney paid £24,000 to be allowed to light it up to look like a lightsaber.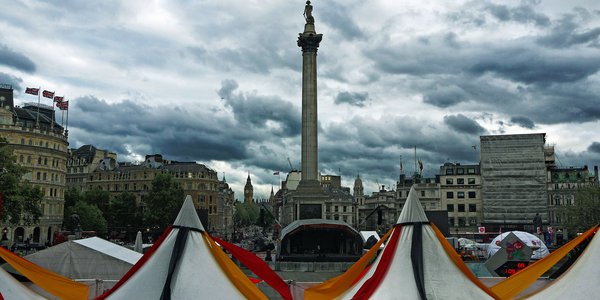 Visiting Nelson's Column
Today, Nelson's Column and the surrounding Trafalgar Square are a favourite for tourists and locals alike. It is a three minute walk from Charing Cross and best reached by the Bakerloo, District or Northern line tubes or the 6, 9, 12, 15, 91, 139 or 176 bus service.
Also on Trafalgar Square, the National Gallery is well worth a visit for Western European art from the 13th to 19th centuries.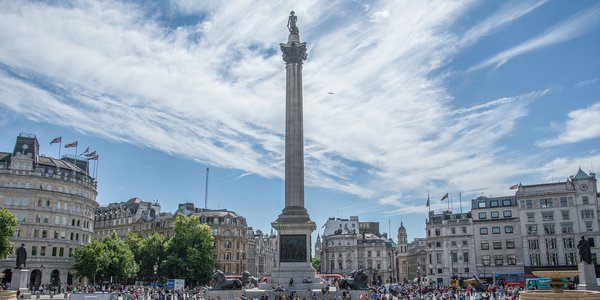 Interested in finding more places like this? Try one of our Treasure Hunts in London - untangle cryptic clues as a team, as you are taken on a journey to the most unique, unusual and bizarre corners of London.