Sherlock Holmes Statue
Arthur Conan Doyle
Next to the iconic Edinburgh playhouse, the Sherlock Holmes Statue marks the location of the character's true origin.
Across the road lies the birthplace of Sir Arthur Conan Doyle, the author of the original Sherlock Holmes stories.
Although the building he was born in is no longer standing, the landmark remains a must see for all die hard Sherlock fans.
A Mystery At The Sherlock Holmes Statue
Holmes' deductive skills were a key character trait, and the sculptors of Edinburgh's Sherlock Holmes Statue have captured this in an imaginative way. The infamous detective can be seen, pipe in hand, scrutinising yet another clue.
A Gigantic Hound?
On first inspection, he would appear to be looking at a huge pawprint, just above eyesight, on top of the plinth he's standing on. Eagle-eyed sleuths, however, will discover that things aren't quite so... elementary.
"It was the footprint of a gigantic hound!"
There is a smaller, fainter pawprint a few inches away. Definitely not the same dog. Follow Holme's gaze and it is clear that it is this second print that has caught his eye. But, to whom does it belong?
Small but Mighty
Some have suggested that it is an homage to Conan Doyle's real life pets. The evidence for this is thin, however, and there is a competing claim.
The size and shape of the print call to mind another famous statue on the other side of Edinburgh. Greyfriars Bobby.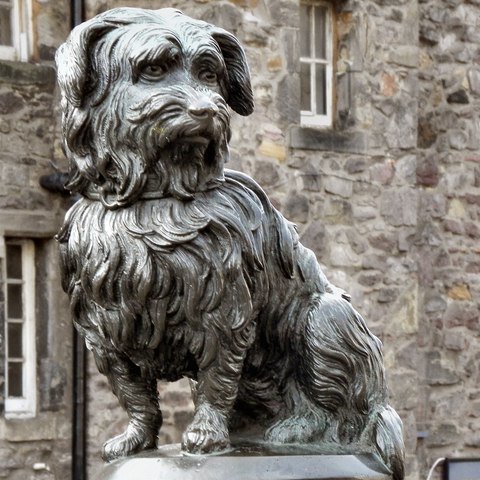 This loyal terrier captured the hearts and minds of the people of Edinburgh in the late 19th Century, having spent the last 14 years of his life guarding the grave of his deceased owner, day and night.
For years, passers by have rubbed his nose for good luck, wearing away its black paint to reveal shiny bronze beneath.
Could this be the dog at the heart of the Sherlock Holmes Statue mystery? We'd probably need a real life Sherlock to find out for sure. Luckily, such a person isn't quite as improbable as it at first might sound.
The Real Sherlock Holmes
The fictional detective was based on a real life Scottish surgeon, Joseph Bell. Conan Doyle, having served as a clerk under Bell at the Edinburgh Royal Infirmary, had been impressed by the surgeon's keen observational skills.
Bell was renowned for being able to deduce the job and recent activities of any person based on visual information alone.
Sound familiar?
Like Sherlock, Bell was often involved in police consultation. In fact, he is credited as one of the pioneers of forensic science.
A Legend In His Own Lifetime
Given all this, it's hardly surprising that Bell quickly figured out the connection between himself and the fictional Sherlock.
And the public weren't too far behind him.
He soon became a minor celebrity, and everytime he was called to a crime was cause for public interest.
Although he was neither chasing giant hounds nor battling criminal masterminds, he contributed to many cases. He even submitted reports to Scotland Yard on the infamous Jack The Ripper murders.
It is little wonder, then, that Doyle saw inspiration in him for one of the most iconic detectives in literary history.
To learn more about Joseph Bell, visit the Surgeons Hall Museums, also in Edinburgh.
Interested in finding more places like this? Try one of our Scavenger Hunts in Edinburgh - untangle cryptic clues as a team, as you are taken on a journey to the most unique, unusual and bizarre corners of Edinburgh.
Alternately, read more about strange, unusual and quirky places in Scotland in our blog.