In amongst wall-to-wall specimens, medical devices, and other morbid curiosities; see the death mask of a serial killer and learn the museums' relation to Sherlock Holmes.
History of Surgery
Medicine and Murder
Edinburgh historically has pioneered a wide range of medical breakthroughs. From syringes to penicillin, these discoveries and inventions have healed and helped countless people. Surgeons' Hall Museums is an archive for all of these discoveries and the history behind them. Though many are now essential practices, the road to these discoveries wasn't always benevolent.
From graverobbing to murder, many contributions to understanding the body have been embroiled in crime. It's for this reason Burke and Hare are some of Edinburgh's most famous killers.
Edinburgh Anatomy Study
The early 19th Century saw Edinburgh at the forefront of anatomical study. Many hopeful students flocked to Edinburgh University to be educated in modern medical science. Pursuing a better understanding of anatomy, educators would dissect corpses in the theatre.
Due to the demand for more bodies to study, the monetary reward offered for a fresh corpse was generous. It was supposed to encourage those who had recently lost to consider furthering important research but some saw it as an opportunity.
Crime and Punishment
Burke and Hare
With the promise of good money and the increasing demand for more and more dissections, many took to graverobbing. Through vague legal wording, it was not a crime to "steal" a corpse, as it did not belong to anyone. This practice became so commonplace that the term "resurrection men" became the unofficial title of graverobbers.
Burke and Hare became aware of this opportunity after Hare's renter died in debt to him. They sold the man's body to Robert Knox, a prominent medical educator at Edinburgh University, as a means of reclaiming the debt. Stealing his body before burial and delivering it to Knox, the men were told they would be welcomed back if they encountered the same situation again. While Knox's culpability in the murders is unknown, he would go on to accept and pay for fifteen more victims.
"Up the close and doun the stair, But and ben wi' Burke and Hare. Burke's the butcher, Hare's the thief, Knox's the boy who buys the beef."
Daft Jamie and Docherty Discovery
Two of their last victims, James and Margaret, played a key role in catching the killers. James Wilson, or Daft Jamie, was a beggar. He was well known in the community, with some reports of him being kind. After Burke and Hare sold his body to Knox, people noticed Jamie's absence. Students also recognised Jamie when examining his body, his deformed feet being distinctive. Knox dismissed the student's claims but dissected the body ahead of others, removing his head and feet to disguise the corpse.
Margaret Docherty was Burke and Hare's last victim. Her body was discovered in the lodgings by fellow lodgerse. They had become suspicious and searched the premises while alone. They immediately reported their landlord to the police and Burke and Hare were arrested.
Trial and Betrayal
Before trial, Hare was offered immunity if he turned in evidence against Burke. It is said that without Hare's acceptance of the deal and full confession, they may not have been able to convict at all. His betrayal of Burke led to Burke being convicted of the murders. Sentenced to death, the Judge added:
"Your body should be publicly dissected and anatomized. And I trust, that if it is ever customary to preserve skeletons, yours will be preserved, in order that posterity may keep in remembrance your atrocious crimes"
This wish was kept. Burke was dissected in Old College by Alexander Munro in front of his anatomy students. Theskeleton was given to the Edinburgh Medical School, where it is still on display to this day. For the even braver viewer, a book bound in his tanned skin can be seen in the Surgeons Hall Museum alongside his death mask. Hare's fate is unknown, having last been seen traveling towards the English borders.
Fact and Fiction
The Real Sherlock Holmes
Although Burke and Hare's crimes were atrocious, Surgeons' Hall Museums aren't all doom and gloom. They also delve into the history of Joseph Bell. Bell is considered to be the first Scottish scientific surgeon, but he is better known as the inspiration behind Sherlock Holmes. Believing in the importance of proper observation, he was known for randomly picking someone and deducing their job or recent activities based on visual information.
While Joseph Bell wasn't battling his arch-nemesis, he was involved in police investigations and appeared as an expert witness in trials. Bell also submitted reports to Scotland Yard on the infamous Ripper murders. It was well known at the time that Sherlock was based on Bell, so when he was called to be an expert witness it was a cause for public interest in the case.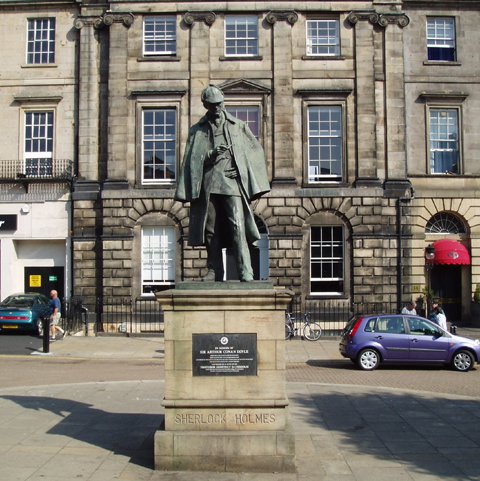 Interested in finding more places like this? Try one of our Treasure Hunts in Edinburgh - untangle cryptic clues as a team, as you are taken on a journey to the most unique, unusual and bizarre corners of Edinburgh.
Alternately, read more about strange, unusual and quirky places in Scotland in our blog, or discover what is very probably the UK's strangest and most gruesome museum in our post on the Viktor Wynd Museum.