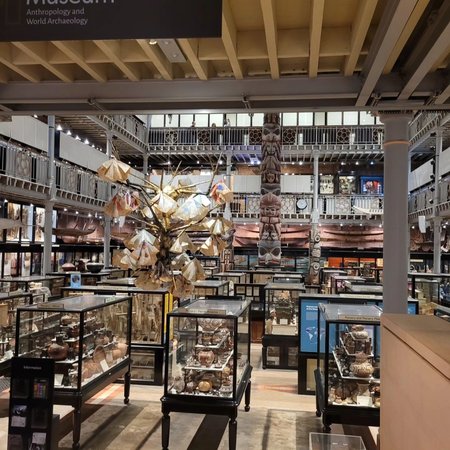 The Pitt Rivers Museum: Placing Humanity Under the Microscope
Accessed via the prestigious Natural History Museum, Oxford University's Pitt Rivers Museum has a collection of over 500,000 ethnographic and anthropological curiosities from around the world. Within this collection is a mixture of items pertaining to art, technology, and invention that have been consciously arranged into 'type' rather than 'time' or 'region'. In this manner, fascinating details and idiosyncrasies are revealed across cultures, inspiring questions about how different societies have tackled (and continue to tackle) 'life' over the years. It is a place where many histories collide, from troubling pasts to other less grizzly aspects, the Pitt Rivers Museum uniquely places humanity on a pedestal to be picked apart and examined. Today, it is widely considered the best museum of its kind for doing so.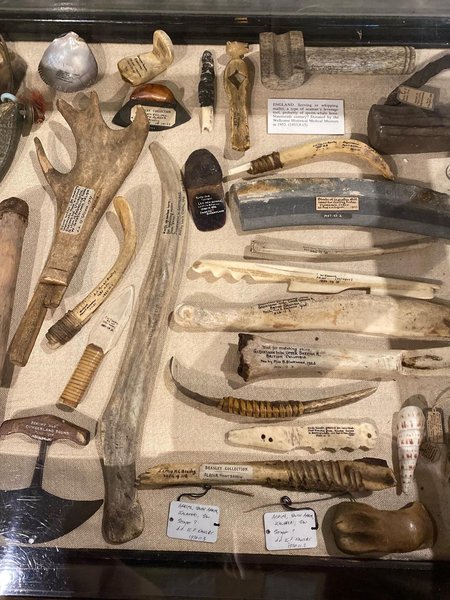 Creating the Pitt Rivers Museum
The Pitt Rivers Museum was established in 1884 and named after its founder, Lieutenant-General Augustus Henry Lane-Fox Pitt Rivers, a soldier and archaeologist. Now we know what you're thinking – was this man Indiana Jones? – and the answer's no, but, a visit to the museum itself is like stepping onto a set of one of those popular movies. Picture it: dimly lit hallways, spread across two mezzanine levels, and display cases packed with archaeological goodies. From warrior helmets to paper receipts the artefacts are eccentric and unexpected and have historical, social, and ritual significance.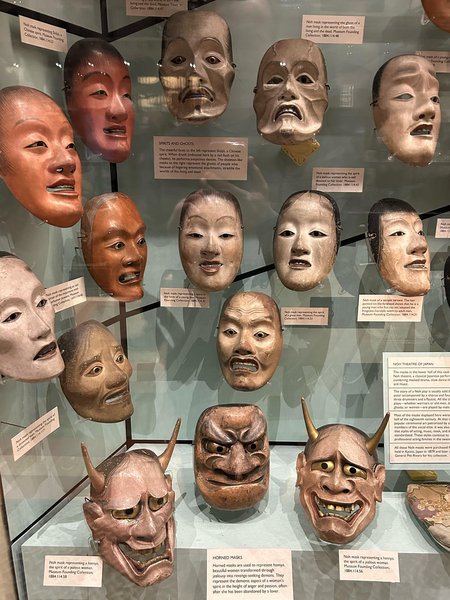 A Great Collector
Lieutenant-General Pitt Rivers always had a keen interest in understanding societies. During active duty in Malta, he collected a vast array of cultural objects. But they were also acquired over the course of his lifetime, often whilst vacationing around the world, even being plucked from auction houses and dealers. By 1884 his mighty anthropological collection totalled 27,000 items — one of the most significant of its time.
Revolutionising Archaeology: The Father of Typology
However, Pitt Rivers was not merely a collector; he was a meticulous recorder of data. His approach involved recording detailed information about each artefact's origin, use, and cultural significance — their 'type' — revolutionising the field of archaeology and ethnography. In 1884, Pitt Rivers donated his extensive collection to Oxford University. But there were conditions: the University had to build a museum specifically to house the collection; a lecturer had to be appointed to permanently teach anthropology; and his typological mode of display must be maintained. Withstanding these promises Thomas Manly Deane, whose father co-built the Natural History Museum, was appointed to create the Pitt Rivers Museum in 1885. It was completed in 1887 and fully opened to the public by 1892.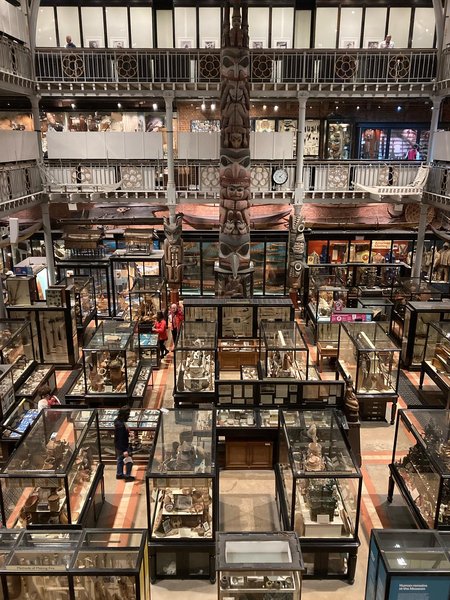 Displaying Artefacts at the Pitt Rivers Museum
"The Pitt Rivers is packed beautifully, and practically to the ceiling with the most wonderful array of ethnographic objects, all soothingly lit and artistically arranged."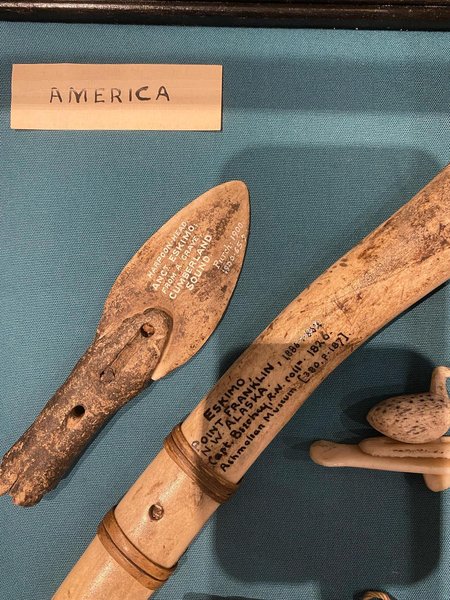 Typological Displays
Adhering to Pitt Rivers famous typological format, artefacts in the museum are sorted thematically. This means that tools, weapons, pipes, ceremonial masks, and jewellery from all different countries and time periods are displayed alongside each other (within their specific categories of course). But there are other genres such as 'magic', 'treatment of dead enemies', and 'rituals'. In this way clear comparisons and contrasts are visible in how different societies have addressed similar issues throughout history.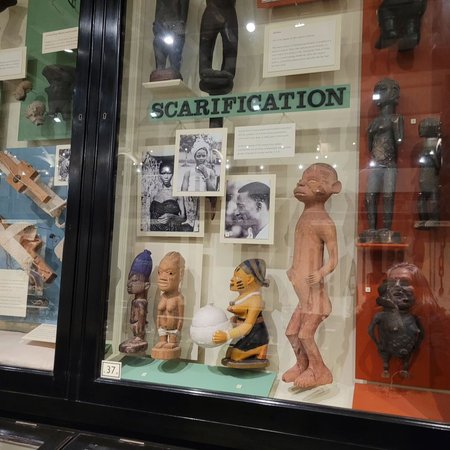 Inside the museum
Within the museum, floor-to-ceiling glass cabinets are full to bursting and drawers are stuffed with all kinds of treasures, from Africa, the Americas, Asia, Oceania, and Europe, which visitors can dig through. Some artefacts are even suspended from the ceilings. Alongside each item is a small, hand written label containing its basic information. The labels are sometimes hard to read and the language can be derogatory at times (which is being addressed by the museum) yet they are an important feature offering insight into the mindset of the museum's initial staff. Today they carry a unique code, which is used to identify the individual artefacts.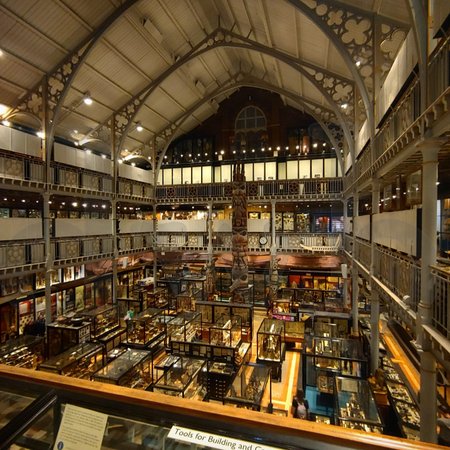 Removing Outdated Items
The Pitt Rivers Museum's collection is constantly growing. However, in order to be more inclusive and less derogatory and hurtful to certain cultures some items have been removed. Especially over the course of the museum's closure during covid-19. The items in particular are shrunken heads and other remains, which had racist connotations. In 2022, the remains of 17 Aborigines that had no place being displayed in a museum, were returned to the Australian government. The museum has also said that it plans to meet with relevant communities to alter some of its current labels to address errors and vital gaps in information.
A Thriving Anthropological Institute
Beyond its role as a treasure trove of artefacts, the Pitt Rivers Museum remains a hub for anthropological research and academic inquiry. The museum hosts lectures, workshops, and collaborative projects, ensuring its relevance in contemporary academic discourse. For visitors it encourages people to see the world through the eyes of others, fostering sympathy by allowing us to recognize the certain cross-cultural similarities that bind us. As such it continues to inspire scholars, students, and researchers to explore, understand, and appreciate human diversity — as Lieutenant-General Pitt Rivers would have wanted.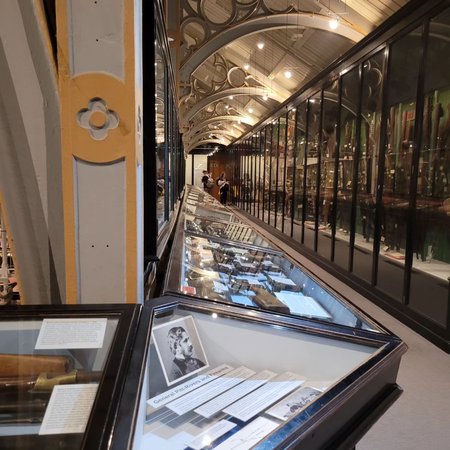 Our Thoughts…
Stepping into the Pitt Rivers Museum is like embarking on a mesmerising journey through human history. The vast collection spans cultures from all corners of the globe, broadcasting the wonders of human creativity and resilience. Today, it serves as a looking glass into the depth of these cultures and the diversity and ingenuity of societies past and present. For those seeking a profound and enriching experience, a visit to the Pitt Rivers Museum in Oxford is an absolute must!
To unearth more secrets about Oxford University's other notable buildings, including The Sheldonian Theatre, why not check out our blog!
Or, if you're interested in visiting the Sheldonian and other hidden gems in Oxford yourself, why not check out our outdoor treasure hunts in the area? There are two hunts to choose from: Scholars and Spires and Ancient Echoes each promising all the fun of an escape room with the historic facts and whimsical trivia of a walking tour. 
Both routes take you around Oxford on a curious journey that will take you into the city's fascinating alleyways while learning more about Oxford's turbulent history in a new and interactive way.
Take the stress out of planning your visit to Oxford and book your adventure today! 
Not visiting Oxford this time? Don't worry, you'll find us all over the world.