Why is it called Wedding Cake Rock?
With its perfect 90° corner and top so flat it could have been carved by a knife, Wedding Cake Rock (aka White Rock) got its name because it resembles a wedding cake. Some people say it looks more like a block of cheese or tofu, but I guess 'Cheese Rock' didn't quite have the same ring to it. (No offence to the many 'cheese rocks' out there!)
What is Wedding Cake Rock?
Essentially, Wedding Cake Rock is… well, a rock. However, it is unique not just in its appearance but in its colour as well. Typically, sandstone has distinctive rusty-looking patterns running through it, but Wedding Cake Rock is pure white, as if bleached by the Sydney sunshine. In truth there is a complete lack of iron — referred to as iron leaching — in the structure. No iron means no rust and, subsequently, no colour. It also means the sandstone layers are dangerously soft, prone to cracking and at very high risk of collapse.
Where is Wedding Cake Rock?
Wedding Cake Rock is slightly North of Big Marley Beach — along the coast track near Bundeena — and is one of many rock formations in the area, alongside The Balcony (Bundeena Lookout) and the adjacent "White Cliffs" of Marley. A relatively easy trek with clear signage (although please be aware of some steep and rocky 'tricky areas') along the Royal Coastal Walk trail, starting in Bundeena, leads to the formation. Along the walking track you'll be met with wildflowers, swamp wallabies, waterfalls, pools, and breath-taking panoramic views of the ocean, stretching out, sparkling into the distance. 
You may even like to try a little whale watching from the towering sea cliffs!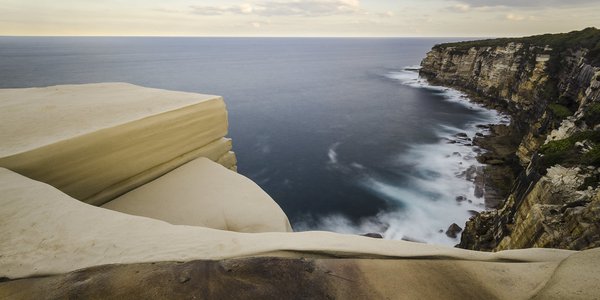 Is it easy to get to Wedding Cake Rock?
If you were to spend most of your trip down-under sipping yourself silly in the endless quirky bars, or navigating Chinatown's stowaway markets, and spying all the other cultural delights Sydney has to offer, then we wouldn't blame you! But, if all that and the multiple enchanting gardens and secret beaches aren't quite quenching your thirst for that fresh Aussie air — where a nice long walk and certain pearly white landmark, just might — then do not fret, as to get to Wedding Cake Rock is actually very simple!
How do you get to Wedding Cake Rock?
Using public transport, catch the train to Cronulla station, then the ferry to Bundeena, which is a short walk from the starting point at the end of Beachcomber Avenue. This is also where the nearest car park is. If you enter "71 Beachcomber Ave, Bundeena" in Google Maps, it will take you to a residential address, where directly opposite will be a handful of designated parking spaces. It is a very popular spot however and so parking is more likely in the surrounding streets: Eric Street and Beachcomber Avenue. (Street parking is free.)
From here, the Wedding Cake Rock hike takes little less than an hour, being just a few miles down the Royal National Park Coast Track. A trail which spans the entire length of the park's coastline, from Bundeena to Otford. If you venture onwards, you will come to Big Marley Beach, Little Marley Beach and eventually even Wattamolla.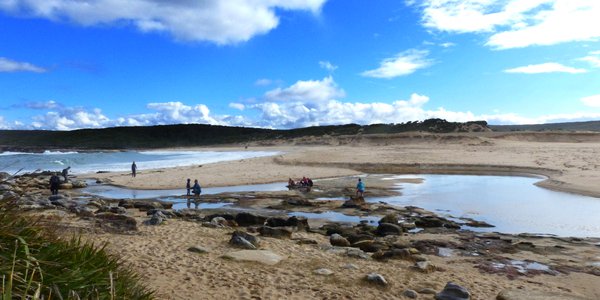 Is Wedding Cake Rock closed?
No access onto Wedding Cake Rock — max penalty $3,000.
Although the landmark is notable for its white colour, stunning location, and beautiful views along the coastal track it has recently become the subject of much concern. In 2015, a surge in popularity brought knowledge of its impending collapse (within the next decade). The New South Wales National Parks and Wildlife Service (NPWS) said the number of visitors per month had risen sharply from around 2,000 to over 10,000, with the new photo-sharing platform, Instagram, listed as the main culprit.
The sudden popularity spike worried the NPWS. Gary Dunnet, the service's Regional Manager, raised the important question of "whether having 30 or 40 people standing in that area [had] the potential to tip it one way or another." But people not only walked, sat, posed for that perfect 'insta', and did yoga on the rock top, they also began to vandalise it: drawing on it with chalk. 
Eventually, citing safety concerns, Wedding Cake Rock closed to the public in May 2015 and a fence was erected to prevent tourists from climbing onto the rock. 
Is Wedding Cake Rock dangerous?
It had always been advised that standing on Wedding Cake Rock posed a significant safety risk due to frequent strong winds. In 2014 a French student, Fabien Ardoin, slipped and fell to his death and the following year two men had to be rescued from the scene by safety crews. After closing public access to the rock experts conducted a survey which revealed that the structure itself was highly unstable and could plummet "without warning" into the sea below. The geotechnical study discovered deep cracks on two sides (that have since widened), leaving Wedding Cake Rock "precariously balancing on the cliff edges, and severely undercut." It appeared only to be held together by a few pieces of debris, which had crumbled after a recent major fracture below the rock.  
As a result, public access will remain closed until Wedding Cake Rock's eventual and inevitable demise.

Can you still visit Wedding Cake Rock?
It would seem the landmark's closure was not enough to deter the many brazen tourists, who continue to climb the fence and risk their lives (not to mention the tempers of local Sydneysiders), for a digital dance with fate on the cliff top. The argument by locals is that not only are these people endangering themselves and any emergency service staff that have to perform "dangerous rescues and retrievals", but there is also an equally spectacular picture opportunity a little further on down the trail. 
In March 2016, the first $300 fines were issued to fence-hopping daredevils. This was not enough to stop them however, resulting in a collaboration between the NPWS and the New South Wales Police Force, who began patrolling the area from June 2016. By July, 6 fines had been issued, with 7 more — the amount of the fines now up to $3,300 — being handed out between then and July 2018. 
In a statement in June 2019, NPWS's Area Manager, Shaun Elwood said "unfortunately, some people chose to disobey the warning signs and climb over the old fence to take selfies for social media and we have been forced to take further action." This 'further action' came in the form of a reported $281,000 improved safety fence. "The better barrier will be made of high-grade stainless steel with an inward tilt to make it harder for people to climb… New safety signs will also inform visitors of the imminent danger of the rock collapsing."
Due to the volume of trespassers over the years the NPWS proposed establishing a viewing platform nearby. The proposal became fully funded by the NSW Government's 2016-17 state budget, as part of a $9 million 'windfall' to upgrade the Royal National Park Coastal Track, over a 4-year period. Mark Speakman, Minister for Heritage and Environment, said they wanted visitors to be able to enjoy all that the park had to offer, but in a safe capacity.
Our thoughts…
Wedding Cake Rock has clearly made it onto the radar of various social media platforms and become a desired backdrop for many budding influencers. But may we take this moment to strongly advocate for remaining on the safe side of the fence and not risking your, or anyone else's, life. After all, there are so many more weird and wonderful things to see out here in this big wide world. 
Interested in finding more like this interesting rock formation? Why not try one of our Scavenger Hunts in Sydney - work as a team to overcome cryptic riddles and allow yourselves to be swept off the beaten track on a journey to discover all the quirky bars and unusual sites Sydney has to offer. 
Alternatively, please see further information on opening hours and the Wedding Cake Rock walk below.