Discover York Dungeon
With live actors, immersive sets, and special effects York Dungeon is a tourist attraction bringing York's 2000 years of history to life!
Step into the shadows and prepare to face Viking Danes (and learn about their Saxon enemies), the infamous Guy Fawkes, and local witch Isabella Billington. Allow the sights and smells of the Black Death to envelop you and experience the torture chamber in all its glory!
In contrast to 'Live, Laugh, Love'; Learn, laugh and scream your way into the Dungeons depths – and good luck surviving the witch in the York Castle Dungeon (their scariest exhibit)!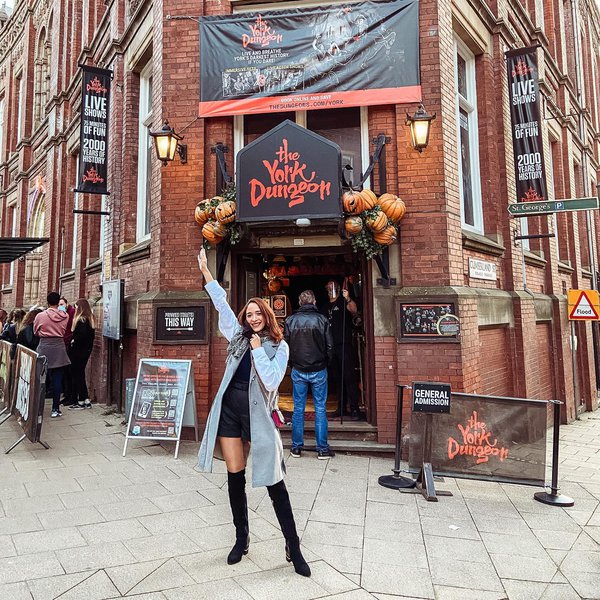 The History of York Dungeon
Alongside London Dungeon, York Dungeon was the second Dungeon attraction created. It opened in 1986 and was intended as a live action horror show based loosely on real stories and events throughout history.
Due to its close proximity to the River Ouse, York Dungeon has been subject to severe flooding on multiple occasions. The first flood occurred in 2001, then again in 2004, and twice in 2012.
After the 2012 flood, York Dungeon was closed until March 2013 and underwent a complete refurbishment. Many exhibits were totally refurbished including the torture chamber, which ended up downsizing, having most of its original exhibits removed, and undergoing script rewrites.
As with each Dungeon franchise, the York Dungeon was rebranded in 2013, which included a new set of scripts that had additional comedy elements factored in. Of each Dungeon, York remains the smallest.
Exhibitions and Shows at York Dungeon
How does it all work? York Dungeon operates through a medium of tours, which last between 1 and 1.5 hours. Visitors are then led around the different shows and exhibitions that the Dungeon has to offer, including:
York Minster
Vengeance of the Vikings
York Plague House
City Ghosts
Guy Fawkes
The Torture Chamber
Execution
Curse of the Witch
The Courtroom
Dick Turpin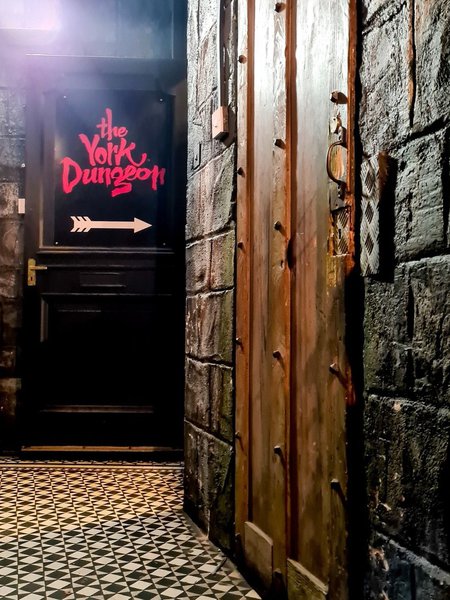 York Minster
Discover the Saxon chronicles of Eoforwic and meet Father/Sister Abostus. But be wary of the approaching Vikings and anyone by the name of Eadwig!
Vengeance of the Vikings
Here you'll find yourselves at the heart of the 866 AD Viking invasion. Viking warrior, Snore Short Sword is ready and waiting to introduce you to viper pits, blood eagles and more. Its also thought he's on the lookout for Saxon slaves, which just so happens to be what you're dressed as, so remain vigilant!
York Plague House
Hmm, wandering through the plague-infested streets of 1551 York is probably not recommended, but at least the Plague Doctor's Assistant is on hand to provide a cure or two!
City Ghosts
Prepare to face the troubled housekeeper at 35 Stonegate (one of York's most haunted buildings) and allow them to inform you of the tragic tales of its former occupants!
Guy Fawkes
'Remember, remember the 5th of November'… well you certainly won't be able to forget after visiting this harrowing show at York Dungeon.
The Torture Chamber
At the Torture Chamber prepare to meet your maker in one of the most interactive shows at York Dungeon. History never looked (and sounded) so disgustingly entertaining!
The Courtroom
The greatest (or worst) Judge in all of York awaits you in the Courtroom, one of York Dungeon's funniest and most famous shows. The Lord Chief Justice is out to pick on guilty looking peasants and make them stand trial for some truly awful crimes. Good luck avoiding the docks!
Execution
There's a traitor in the midst – here's hoping it isn't you or you might just lose your head on the big, smelly chopping block.
Curse of the Witch
Based on the story of the infamous Isabella Billington from Pocklington, you'll enter right before her execution and get to listen to her compelling plea of innocence. Will you believe her?
Dick Turpin
Whilst the Dungeon in York is not big enough for rides like other Dungeons in the chain, the Dick Turpin leg of the tour has 'drop benches' that by their jerky motions are designed to simulate a crashing stagecoach. During a discussion of leeches, visitors will also notice the animatronics under their seats simulate the feel of the black, slithering organisms.
Dungeon Lates
If you thought it couldn't get darker and scarier, then you thought wrong. The adults-only Dungeon Lates tours, held in the evening and lasting 75 minutes from January to October 2022, featured the original Dungeon shows but in even more terrifying detail.
An after-hours experience like no other!
Criticisms of York Dungeon
In 2004 the Dungeon was subject to criticism from the Christian community concerning a Christmas exhibition called Satan's Grotto. The Dungeon was even asked to stop the show. But a spokesperson from the attraction replied to concerns stating that the show was "all tongue-in-cheek and should not be taken seriously."
In 2007 the Dungeon faced further criticism when it offered free entry to people with Anti-Social Behaviour Orders (ASBOs) for the weekend of 26th and 27th May. Criticism came from crime victims, York Councilors, and Hugh Bayley, City of York MP who said:
"This is a publicity-seeking gimmick which goes too far. The public needs protection from anti-social behaviour and York Dungeon shouldn't be rewarding people who have been sentenced to an ASBO by the courts."
According to the Dungeon's Manager, the intention was to "shock the ASBO offenders a little to see what would have happened to them a couple hundred years ago." But in the end not one ASBO holder attended.
Our thoughts...
If you fancy spending the day dressed as a peasant, whilst listening to the chilling accounts of historical events from some of York's key figures, then York Dungeon is the tourist attraction for you.
Interested in finding more places like this? Try one of our Treasure Trails in York - untangle cryptic clues as a team, as you are taken on a journey to the most unique, unusual and bizarre corners of York.