Blues Point Tower: The Rise And Fall Of Modernism
In this article we track the spread of modernism from its birthplace in Germany, France and the Netherlands, across Europe, Russia, the Middle East and later the world. We then examine the case of a standalone tower, Blues Point, across the globe in Sydney. This was once meant to be the first part of a custom-built modernist utopia, but by the time it was finished, in 1962, modernism was waning in popularity. As a result, the rest of the project was abandoned and there were even calls for Blues Point to be torn down.
Find out more in our article on Blues Point Tower.

Southmere Lake: The Elitism Of Brutalism
This collection of concrete towers around an artificial lake- made famous by Stanley Kubrick's A Clockwork Orange- was supposed to be brutalism at its best, the crowning jewel of the neighbourhood of Thamesmead. Its architects were so enthused at the idea of creating working class heaven on earth that they forgot to take into account how different humans might actually want to live, however. Their designs were baffling and, worst of all, failed to address the fact they were building on a flood plain.
Find out more in our article on Southmere Lake.

Park Hill Estate: Dreams That Refuse To let Go
This 60s brutalist mammoth was supposed to be a new type of towerblock, but quickly gave way to the same old problems as its predecessors and, in the 80s and 90s, became a hotbed of crime and neglect. Despite this, it was listed in 1998 and has since seen something of a resurgence. Renovations are still ongoing but, if the developers in charge of them are to be believed, this brutalist nightmare once again has hopes of becoming an urban utopia.
Find out more in our article on Park Hill Estate.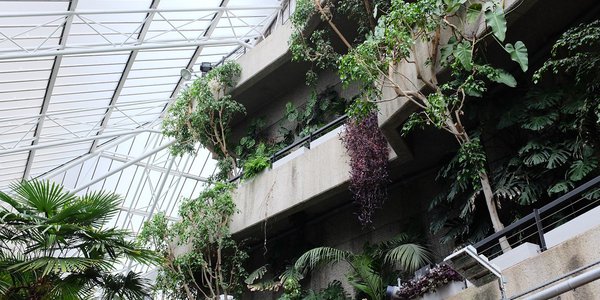 Barbican Conservatory: Flowers From Flawed Concrete
The Barbican is a sprawling brutalist zuggurat that has more than once been called London's ugliest building- although it is not alone in that. One recent addition to it however has been met with near universal praise: it's conservatory. This jaw-dropping greenhouse, built around the building's concrete fly-tower, is proof that even the world's least popular structures can be transformed into places of beauty that everyone can enjoy.
Find out more in our article on Barbican Conservatory.