When it first opened, in 1961, Sheffield's Park Hill Estate was the most ambitious public housing project that Britain had ever seen. Since then, it's been through ups and downs and come out the other side a famous archetype of brutalist design.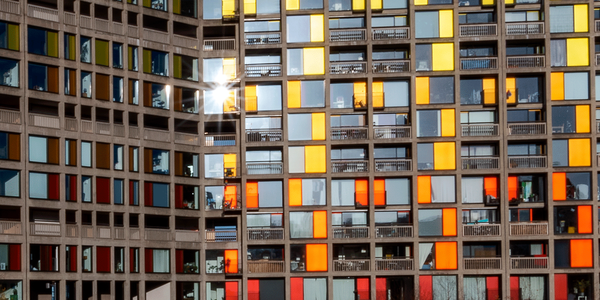 Park Hill Estate: A Post-War Dream
Streets in the sky, enough flats to house 3000 people, pubs, schools, shops, a chippy, an urban utopia overlooking England's steel city, this was the Park Hill Estate architects Ivor Smith and Jack Lynn dreamt of.
They believed architecture could provide solutions to many of post-war Britain's problems, not least the housing shortage. Park Hill's innovative curved design was meant to instil within its residents a sense of community. No longer would people be separated from their neighbours, isolated in towering high-rises. This was the new way forward, the housing project of the future.
At least, that was the plan. And to begin with it seemed to be working.
One year in, residents' reviews were largely positive. They felt like they were better off than they had been before. Smith and Lynn won awards and their design inspired similar buildings.
Soon however, trouble began to set in.

Park Hill Estate In A State
The seventies brought with them uncertain times for Sheffield. Its steel industry went into decline and jobs became scarce. Park Hill Estate was one of many places to suffer.
Its elaborate design made it difficult and expensive to maintain, especially in times of growing inflation. As a result, the government let it deteriorate.
Soon it was making headlines for all the wrong reasons. Drugs and crime were becoming endemic. No longer a utopia, people began to refer to the estate as ugly, reminiscent of a prison block.
Gentrification, Blight And Segregation
With the eighties came a Conservative 'Right to Buy' scheme, which allowed the estate's more well-to-do tenants to purchase their council homes at a discount. Places in the more desirable parts of the estate were snapped up;, and the rest was left to rot.
The most neglected parts of the complex became hot-beds for crime, drug use and urban decay. The building's concrete crumbled, its lifts stopped working, and its shops and businesses closed down. The same sky-streets that had once connected its residents, now provided the perfect space for gangs and muggers to operate in.
Park Hill Estate was quickly becoming a dystopia.
Park Hill Estate Is Listed
Despite this however, its legacy remained important. To reflect this, in 1998, English Heritage awarded it Grade II listed status, making it the largest Grade II listed building in all of Europe.
The estate's critics were outraged- they'd wanted it torn down. But it was too late for them to do anything about it, Park Hill Estate was to be preserved for posterity.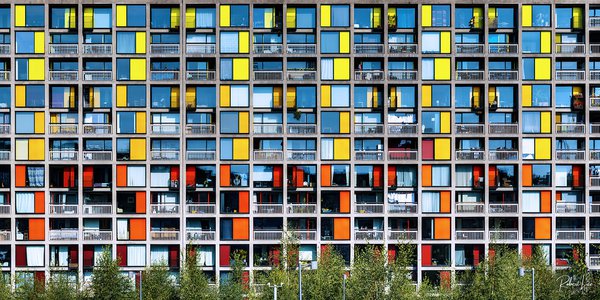 Park Hill Estate Today
Since then, it has undergone various phases of revitalisation, with the eventual aim of transforming it into it a 'sustainable, vibrant mixed-tenure estate'.
These projects have seen some success, but are not without their downsides. People have been rehoused to make way for developments, and price hikes have seen residents struggle to pay their rents.
Park Hill Estate is being made into a functional, modern housing complex, but, as with any area that has suffered from urban blight, its redevelopment serves as a double-edged sword, bringing with it the threat of gentrification.
Interested in finding more places like this? Try one of our Sheffield Treasure Hunts - untangle cryptic clues as a team, as you are taken on a journey to the most unique, unusual and bizarre corners of England.
Want to discover another brutalist gem, check out our article on Southmere Lake.