In 1990, turtles became a hit pet following the release of the Teenage Mutant Ninja Turtle film. Households up and down Britain rushed to buy tiny terrapin versions of their favourite action heroes. There was a problem however, the turtles weren't to remain teenagers forever.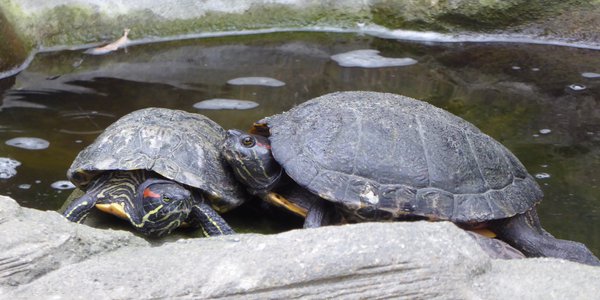 The Gangs Of The Barbican Conservatory
Starting off no bigger than a 50 pence piece, Britain's pet terrapins grew 1-2cm a year to eventually reach the size of the bottom of a bucket. And that wasn't all, owners soon discovered their grown-up toys to be smelly, disease-ridden and not at all that friendly. Turtles were released into the wild in droves, and a favourite place to set them free was Hampstead Heath.
Ill-prepared for these foreign imports, the local wildlife was decimated. By 2007, up to 150 'Terrorpins' were snapping and clawing their way to dominance over the Heath's many ponds.
Local conservationists were quick to react, setting up cages to capture this invading force. This still left the issue of what to do with them once they were caught however. Culling would anger animal rights activists and was almost as expensive as exporting them to a sanctuary in Tuscany. There had to be another way.
Enter Barbican Conservatory.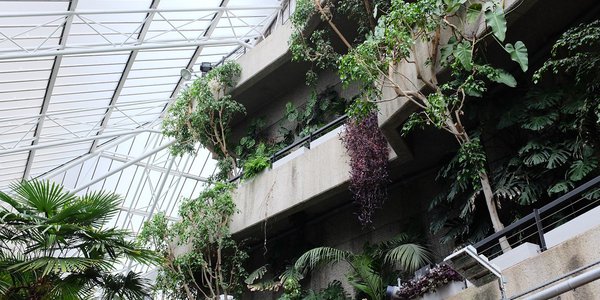 The History Of The Barbican Conservatory
Since before it even opened, in 1982, London's sprawling concrete zuggurat, the Barbican Centre, was attracting the wrong kind of attention. It was big and ugly, people said, and one of its worst parts was its fly tower.
As a result, a glass conservatory was erected around the structure, a place where plants and wildlife could thrive, adding a bit of natural beauty to the concrete beneath.
The Barbican Conservatory has since grown into one of London's largest conservatories, second only to Kew Gardens' Princess of Wales Conservatory. It houses over 2000 different plants and trees, pools full of colourful koi and (you guessed it) a reformed gang of terrapins. Many of Hampstead Heath's former terrorisers have found a new home there and now form part of the urban rainforest's appeal.
Unfortuantely, much like the Walkie Talkie building's Sky Garden, the conservatory has done little to repair the Barbican's reputation as a whole. It remains a love it or hate it structure, having both been voted the ugliest building in London and a site of special architectural interest.

Visiting The Barbican Conservatory
The conservatory is free to visit but you need to book a slot in advance. It is open on select days of the week from 12pm onwards (see the centre's website for more details).
Guided tours are available for those wanting to learn more about some of the many plant species found there.
The conservatory is also available for corporate events and weddings, where its plants can be seen lit up in technicolour glory.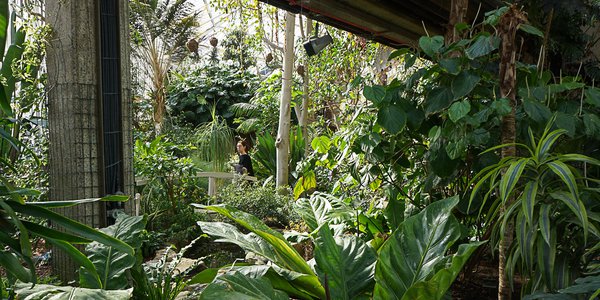 Interested in finding more places like this? Try one of our Treasure Hunts in London - untangle cryptic clues as a team, as you are taken on a journey to the most unique, unusual and bizarre corners of London.
Or read more about London's strange and fascinating gardens in our posts on Highgate Cemetery, Mount Street Gardens, Brown Hart Gardens and Chelsea Physic Garden.