Today a relaxing sanctuary of nesting birds and exotic trees, Mount Street Gardens used to serve a more practical purpose.
A Grave Purpose
In 1723, Sir Richard Grosvenor sold it to the creatively named 'Commission to Build 50 New Churches', a commission tasked with building- you guessed it- 50 new churches.
The land wasn't to initially serve as a church, however, but as a burial ground. For over 100 years, the corpses of labourers employed in the neighbouring workhouse would be laid to rest in its soil.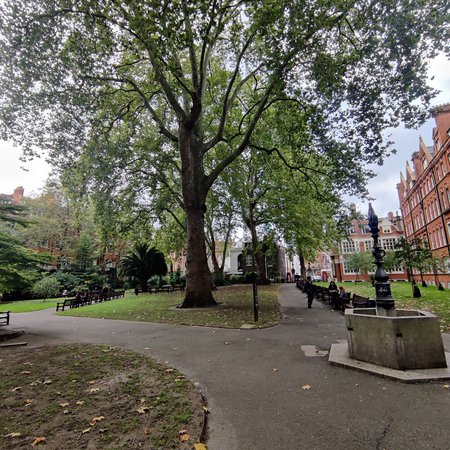 For The Grace of God
Thankfully, a church did soon follow. In 1730, Grosvenor Chapel was erected on nearby South Audley Street, where it can still be seen today.
Its Georgian design might call to mind that of New England churches, and this is no accident. Many Americans have since lived in the area, and Grosvenor Chapel was an inspiration for their own churches.
'Resurrection Men'
Despite the esteemed legacy of Grosvenor Chapel, the adjacent burial ground was not to live a long and prosperous life.
In the 1850s a series of Burial Acts were passed and many of London's graveyards were shut down. The future Mount Street Gardens was one of them. Apparently it failed to comply with the proper health procedures.
What this likely meant, in practice, was that it didn't do a good job of stopping grave robbers, otherwise known as 'resurrection men'. In 19th Century England, medicine was a competitive field, and their was a high demand for body parts to experiment on.
Prior to the Burial Acts, dead bodies weren't legally anyone's property. Or, in other words, they were free cash to a Resurrection Man. Corpses were often dug up and sold to the highest bidder.
The Burial Acts aimed to stop this, by, among other things, making the removal of a dead body from a grave illegal. These laws needed to be enforced, however. Perhaps, the Mount Street Garden burial ground was not well set-up for policing.
You needed walls if you wanted to keep the dead in.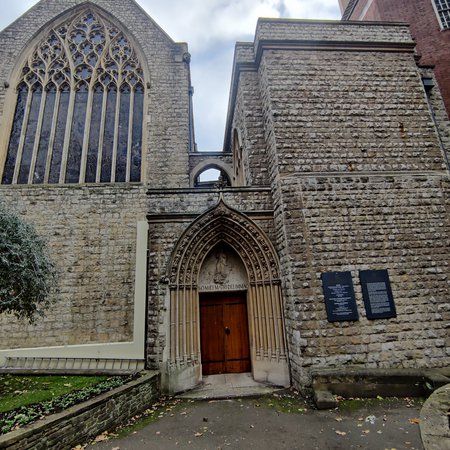 Gothic Churches In An Age of Thieves
Not long before Grosvenor Chapel's burial ground was closed, another church was built on the site of Mount Street Gardens: The Church of The Immaculate Conception.
Completed in 1849, this Gothic-style build would have doubtless witnessed many a 'resurrection'. In fact, to look at, it is almost as if its design was influenced by such grizzly acts. It is still standing today, and you can still see the haunting figures engraved around its door.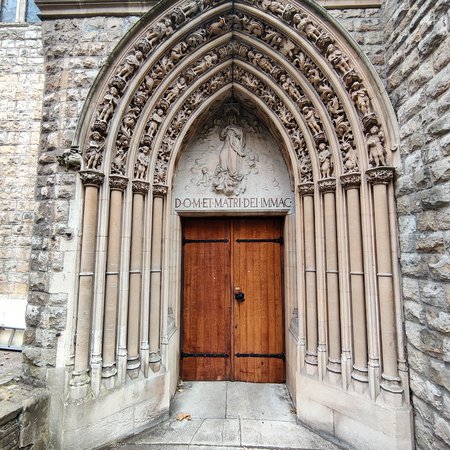 Mount Street Gardens
The gardens themselves have gradually taken shape over the course of the last one and a half centuries. Early elements are its footpaths, created in 1889, and the horse-topped water fountain below, sculpted in 1891.
They now form a photogenic London park, with trees from North and South East China, and a range of nesting birds: great tits, robins, blackbirds, magpies and goldcrests, to name a few.
The perfect place to escape from the city and dive into a good book.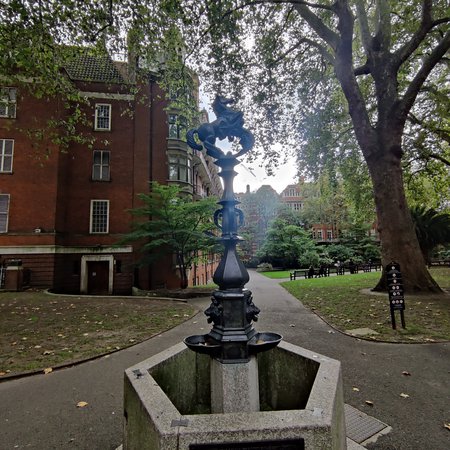 One More Thing...
Grosvenor Chapel may well be familiar to eagle-eyed film fans. It played a starring role in the 2003 hit, Love Actually, hosting the film's opening wedding.
Interested in finding more places like this? Try one of our Immersive City Hunts in London - untangle cryptic clues as a team, as you are taken on a journey to the most unique, unusual and bizarre corners of London.
Looking for things to do in Mayfair? Check out our article on the top things to do in Mayfair for more suggestions.
Or read more about London's strange and fascinating gardens in our posts on Highgate Cemetery, Barbican Conservatory, Brown Hart Gardens and Chelsea Physic Garden.