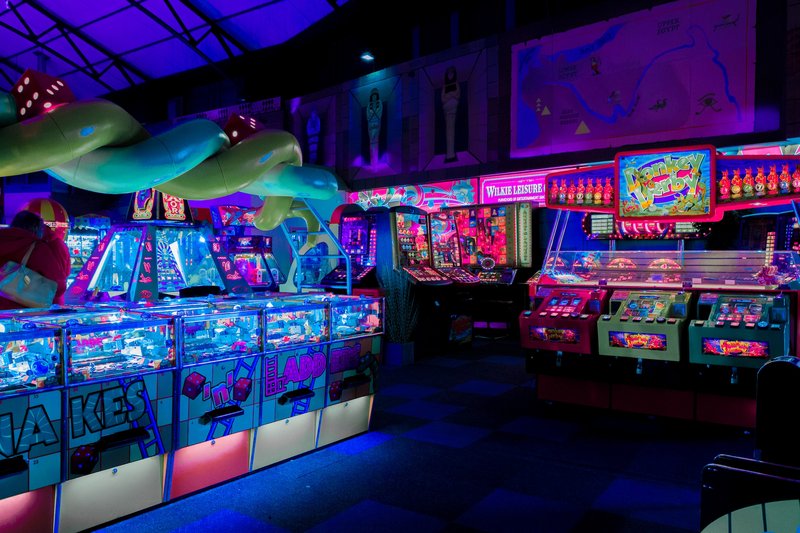 And just so you know - nobody pays us to be featured on this list. They're just our recommendations to you, so you can discover the best places and things to do in London.
The Best Arcades in London
Our top 5 list of the best arcades in London - where to find them, what you can do there and why you should visit!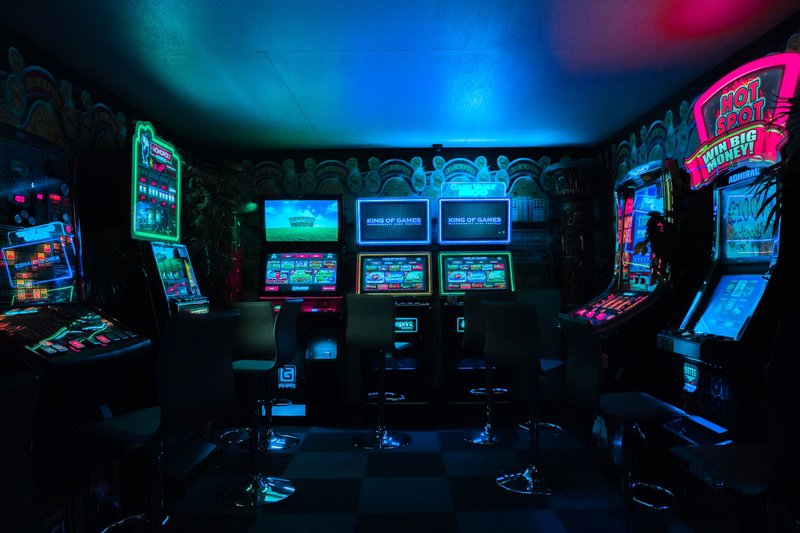 Four Quarters (Peckham, Hackney, Elephant & Castle) 
Coming in at number one on our list of best arcades in London is Four Quarters. Like the name suggests, this is a retro game arcade where US currency is king! 
Channelling some serious Americana vibes, all three of Four Quarters arcades in London operate by taking United States quarters as tokens. You can bring your own (handy if you're an American who carries a lot of change or just got back from visiting the US) or purchase 4 for £2 or £7 for 15.
Available Games
Alien VS Predator
Pinball
Street Fighter 2
Guitar Hero
Tekken 3
Much, much more!
Find out more here. 
F1 Arcade (Near St Paul's Cathedral) 
So much fun that it even made our list of 22 birthday ideas in London, the F1 Arcade is so much more than just a fast car simulator.
Ideal for petrolheads or lovers of Drive to Survive, the F1 Arcade in London takes racing games to a whole new level.
Compete in head-to-head races or team racing, experience the thrills of zipping around a circuit without even leaving your seat, or just hang out in the arcade bar where the cocktails have been named after Formula 1 jargon (Chicane Colada is a personal favourite of mine!). 
Available Games
Racing simulators for teams or head-to-head races
Find out more here. 
Solve the age old argument about who the real gamers are by heading to NQ64 and the ultimate arcade in London.
Ideal for retro and modern gamers alike, NQ64 caters for all tastes without losing any of its passion for gaming. 
Console players can choose from Sega Megadrive, Playstation, Nintendo64 or Gamecube and traditional players can smash pinball machines and other traditional arcade games to their heart's content.
Available Games
Mortal Kombat
Mario Party and Racing, Super Smash Bros
Tekken
The Simpsons Arcade Game
Much, much more!
Find out more here. 
Brewdog Tower Hill Outpost
Shamelessly embracing their hipster clientele, Brewdog have been serving up good times and making a name for themselves as one of the best arcades in London since 2013.
Providing a great venue to play shuffleboard and traditional arcade games, visitors to Brewdog Tower Hill Outpost are guaranteed a good time. Look out for deals like their bottomless wing Wednesdays (meat and vegan options available!) and get gaming!
Available Games
Find out more here. 
Loading Bar (Stoke Newington and Peckham)
A must-visit for gamers and non-gamers alike, Loading Bar is probably one of the most chilled out arcades in London.
Not only does it have bright, vibrant venues like something straight out of Tokyo, but the volume of accessible and fun games mean that you don't have to be a pro to give the games a go. 
As a board game fanatic, I love that Loading Bar has over 80 board games available on top of the newest consoles and traditional arcade games – and they're all free to use as long as you have a drink in front of you (and it doesn't have to be alcoholic either!). 
Available Games
Board games
Xbox One X
PS4
N64
Nintendo Switch
Table Football
Donkey Kong Arcade
Much, much more!
Find out more here. 
Hey, gamers! We love gaming - and we know you do too. That's why we've created Humanity's Last, a real-life, on London's city streets adventure that will really appeal to players obsessed with The Last of Us or fans of The Walking Dead.  
What is it: An outdoor exploration game where you and your team have to work against the spread of a mysterious illness by solving riddles and clues to take you to a lab where a cure can (hopefully) be made.
By taking part, you become the main characters in a story that will terrify you and bring your team closer together in equal measure. London has been infected with a mysterious illness that has transformed its citizens into mindless zombies… and it's up to you to stop it.
Find out more here.
Best Arcades in East London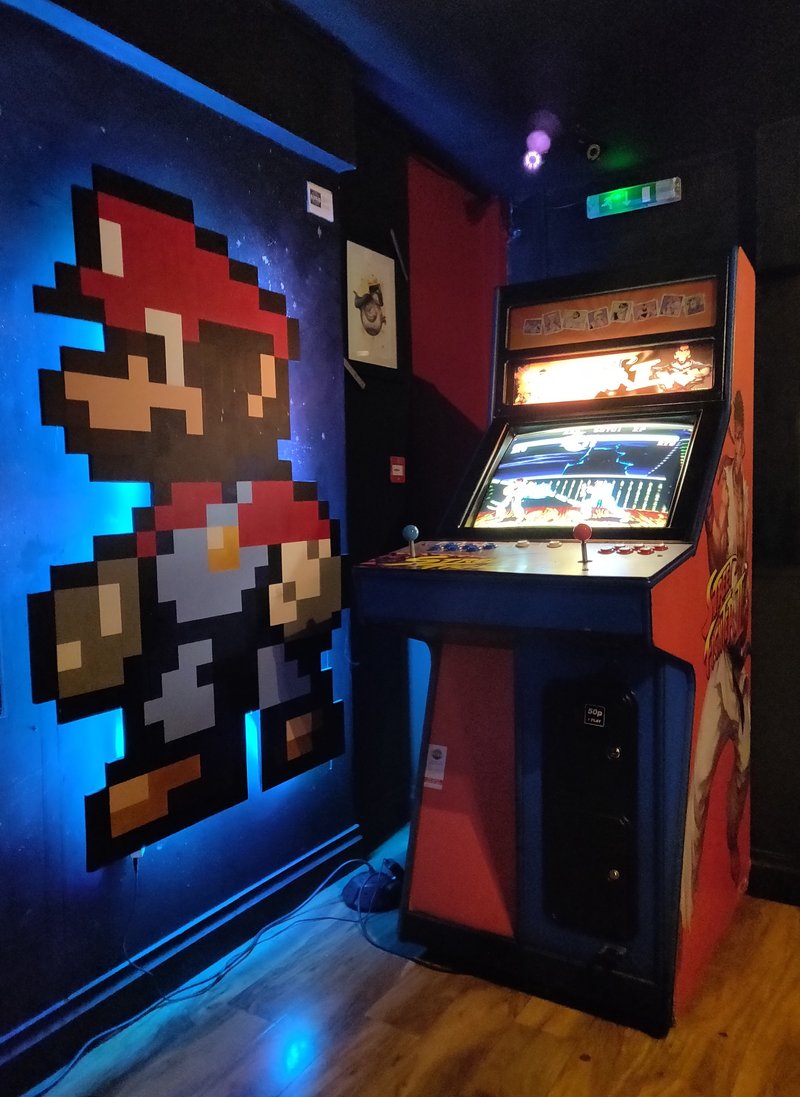 Looking for arcades in East London? Here are our recommendations.
Fairgame (Canary Wharf)
The ultimate gaming experience for adults who are big kids on the inside, Fairgame has turned your childhood fairground into a permanent venue. And the best part is, you don't have to feel bad about taking a kid's place in the queue as it's strictly 18+. 
Choose from a never-ending array of fairground games or order some delicious food and drinks at the bar (the games actually have cup holders so you can take it with you as you play!) and watch your competitive streak soar! 
You can't miss the venue either as there's a giant hook-a-duck to welcome you on the wharf! 
Find out more here. 
The Glitch Bar (Shoreditch)
Perhaps better known as a racing den, Glitch Bar is an incredible arcade venue where fun is pretty much your only option.
One of the best arcades in East London, Glitch Bar offers a wide range of arcade games as well as air hockey, beer pong, arcade games, remote controlled racing and, my personal favourite: basketball hoops! 
A popular place for birthdays, stag and hen parties or just to loosen up and have a change of atmosphere with your mates, you can't go wrong with a visit to Glitch Bar. 
Find out more here. 
OTHERWORLD VR (Hackney)
Whether you've had the fun of testing virtual reality games for yourself yet or not, to experience it at its best you've got to get over to Otherworld VR in Hackney. 
Novices can expect helpful insights from the staff and pros are free to explore and game to their heart's content. Choose from a variety of games in different settings and different levels and let the fun begin! 
PSST: If you download the app, you can even rack up your points and exchange them for drinks. Now that's a prize worth winning! 
Find out more here. 
Plonk (Shoreditch) 
If you're looking for one of the best arcades in London that combine minigolf with a gaming sesh, look no further than Plonk.
Although it's got a great rep as a minigolf hangout, Plonk also has a whole host of arcade games that you're free to play before or after a round of the popular game. And if that isn't enough for you, you can also play pool, board games, play on the pinball machines, foosball or on the 4D pong tables! 
Find out more here. 
Platform Shoreditch
One of the best arcades in East London for console gamers, Platform Shoreditch has eight gaming booths to satisfy Playstation, Nintendo and eSports lovers as well as a well-stocked bar and hang out area. 
If you're yet to trial a PS5, prepare to have your mind blown. The best thing about Platform is that the gaming booths are semi-private so you don't have to worry too much about other people spoiling your immersion. They also have incredible deals such as bottomless beer and pizza and a 90 minute gaming sesh for £35pp. 
Find out more here. 
Best Arcades in North London
Our recommendations for arcades in North London that are well-worth visiting if you're in the area.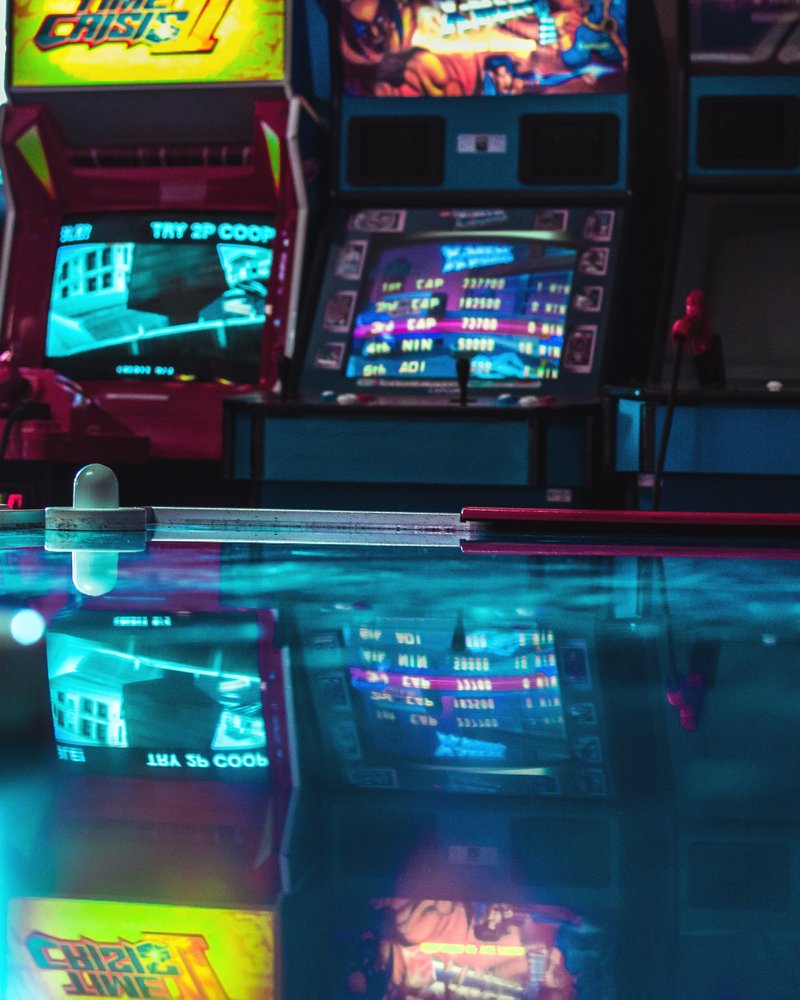 Meltdown London (Caledonian Road)
Hailed as one of the friendliest arcades in North London, Meltdown is a safe haven for unapologetic gamers who eat, sleep and breathe games.
One of the best things about Meltdown is that they hold regular tournaments and events, meaning you can go and watch eSports or your favourite gaming streamers with a bunch of like-minded people. If you'd prefer to get on with your own gaming - no problem, they also have PCs and consoles for its patrons to use and they even host karaoke. 
Find out more here. 
Babylon Park (Camden)
If you're looking for arcades in London that will accommodate your whole family, check out Babylon Park.
This kid-friendly arcade has everything from skill games that test your aiming skills (like basketball) to table games (such as snooker, air hockey) and, of course, classic arcade games that everyone loves.
The park has a fun alien theme to it which reminds me of Pizza Planet in Toy Story (was anybody else obsessed with that place during their childhood?) and for that reason alone, it's absolutely worth your while. 
Find out more here. 
Best Arcades in South London
People looking for arcades in London south of the Thames - these are your best bet.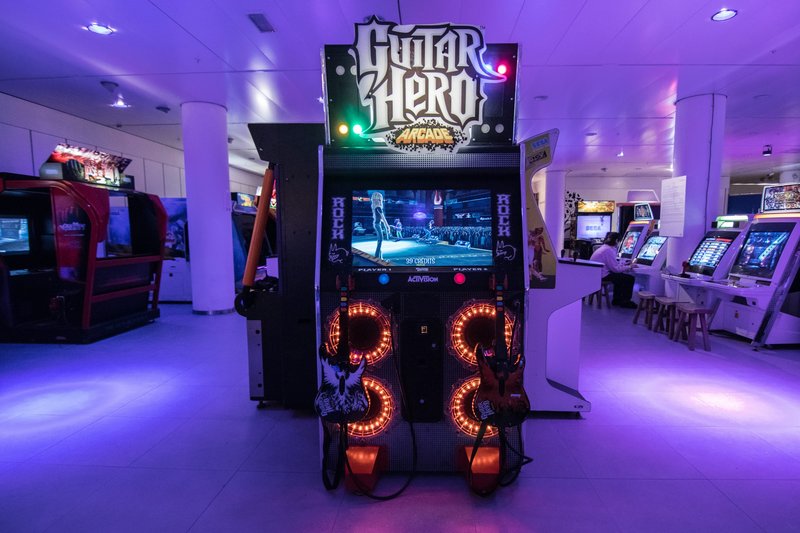 The Heart of Gaming (Croydon) 
Providing the best of both worlds, The Heart of Gaming in Croydon offers a relaxed venue to play the day away - at very reasonable prices.
With a huge selection of games with everything from classics to Japanese rhythm games, The Heart of Gaming caters for all ages and pretty much all gaming tastes. When it comes to consoles, they've got 'em all: SNES, Megadrive, Nintendo 64, PlayStation 4 and Nintendo Switches, so gamers of all generations and abilities can have a go at some gaming glory. 
Find out more here. 
The Four Thieves (Battersea)
Proving you really can have it all, The Four Thieves is the go-to arcade in London for good vibes and good times.
Primarily a pub (it serves some outrageously good food - especially the pizzas), The Four Thieves has also become a fan-favourite for its many weekly events including comedy nights, quizzes, jazz evenings and more.
But located on the first floor of this gorgeous old Victorian music hall lies a massive retro arcade, full of 80s/90s nostalgia games, Virtual Reality games and skill games. People who remember the days of the PSOne DanceMat won't be disappointed - there's a great opportunity to bust your moves on the StepManiax. 
Find out more here. 
Best Arcades in West London
The best arcades in West and Southwest London.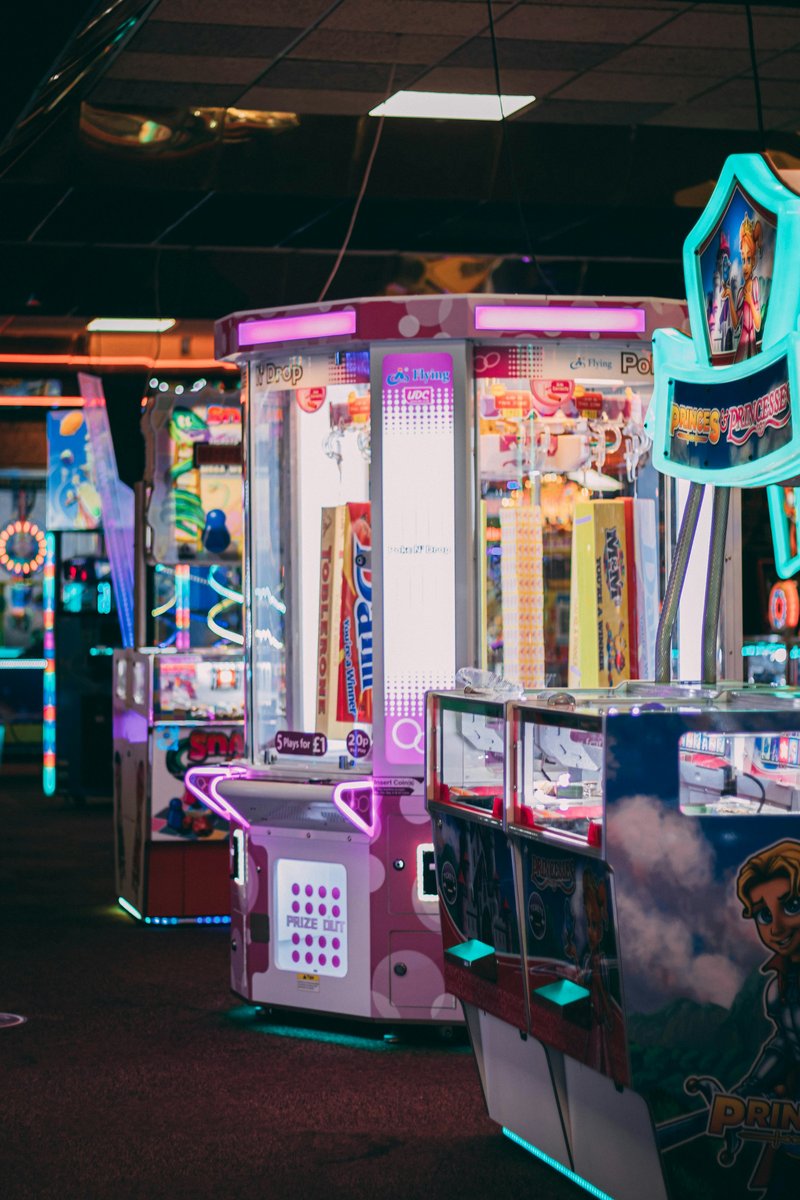 Gravity Max (Wandsworth)
One of the best arcades in West London for gamers of all kinds is Gravity Max in Wandsworth.

More than just an arcade, Gravity Max has a whole host of activities going on, including e-karting, digital darts, AR bowling, shuffleboard, urban street golf - and, most importantly, an incredible arcade.
There are multiple bars and places to grab a bite to eat so you don't find your energy flagging before taking on your equally competitive mate, nan, niece or neighbour and the best part is, it's just a short walk away from Wandsworth Town tube station. 
Find out more here. 
Novelty Automation (Holborn)
We always like to throw in some alternative suggestions to our readers who are seasoned pros at finding unusual things to do in London - and it doesn't get quirkier (or better) than Novelty Automation. 
Cartoonist and engineer Tim Hunkin has designed (and built) the arcade machines that make Novelty Automation one of the best arcades in London. Sure to be unlike any other you've visited before, this arcade is small (but secret) and packed to the rafters with unique machines and carefully-crafted games. 
Find out more here. 
Find More Things to Do in London with CityDays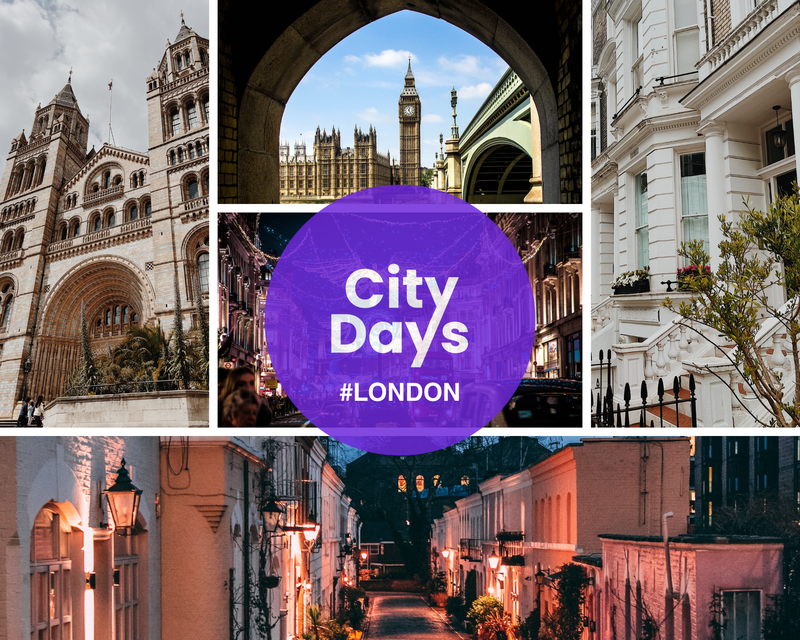 So there you have it - 16 of the best arcades in London.
Interested in finding more fun things to do in London? 
Discover London's secret sights and noteworthy nooks by playing one of our London treasure and scavenger hunts, urban adventures, escape room games or walking tours.
You'll find curated trails and hunts all over London, including Central London, Mayfair, Shoreditch, Kensington and Southwark. 
We also provide team building activities in London that can be made bespoke to include your office, wherever in the capital you are. 
All you have to do is team up with your partner, friends, family or colleagues to solve riddles, complete challenges and answer trivia to lead you on an unforgettable journey around London's most intriguing streets. 
The best part? We'll recommend top-rated pubs, cafés and restaurants and give your team the chance to earn rewards by competing on our leaderboard. 
CityDays gives you total freedom to start and finish whenever you like, take extra breaks if you want or need them, and it's suitable for people of all ages. 
You're also guaranteed your money back if you don't have an amazing time - although our previous reviews speak for themselves: we're rated 5/5 on TripAdvisor and 4.95/5 on Google Reviews!