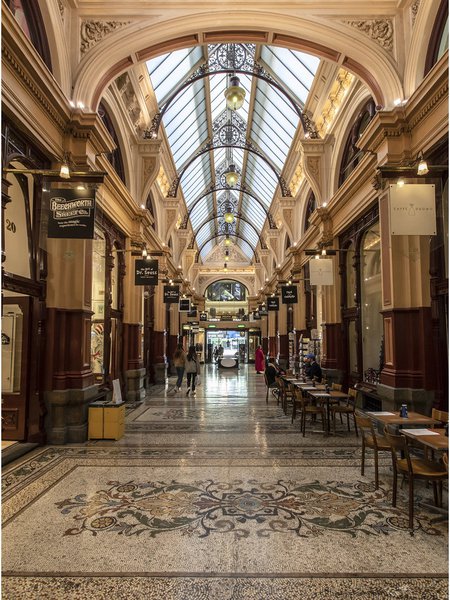 Named for 'doing the block'- a Melbourne tradition that involved the city's well-to-dos putting on fashionable frocks and promenading the north end of Collins St- the Block Arcade epitomises Victorian high society in Australia. It was built between 1890-3 under suspicious circumstances and has been a Melbourne institution ever since.
The Suspicious Origins of Block Arcade
In 1888, developer Benjamin Frink made plans to open an L-shaped shopping arcade between Swanston St and Elizabeth St, at the north end of Collins St. This area had over the previous decades become fashionable with the city's 'elites', who would frequent its prestiguous shops and cafes. Moreover, Frink was already Director of a company whose shop, George and George Federal Emporium, constituted a major part of the block. His plan looked destined to succeed, but perhaps things weren't so simple.
The Federal Emporium would have to be moved to make way for the new arcade. It is unclear what the Georges thought of this, but if they were unhappy it did not stop the project from going ahead. In 1889, a huge fire destroyed much of their shop, causing over $40,000 of damage and clearing the way for Frink's arcade. There is little evidence to suggest that Frink was behind the fire, but it was rather convenient for him...
The Birth of Block Arcade
All obstacles now removed, Frink hired architects Twentyman and Askew to design the arcade and, in January 1890, he publically annouced its development. It was named 'The Block' shortly after and opened three years later, in October 1893.
The arcade is richly decorated inside with orante mosaic tile flooring, a glass canopy reminiscent of the Galleria Vittorio in Milan, and wrought iron and carved stone finishing. At the corner of the L is an octagonal rotunda and at the entrances onto Collins St and Elizabeth St are elaborate, six-storey Victorian facades.
Later Additions to Block Arcade
Soon after it opened, a small laneway to the north was covered and a further entrance to the arcade added, connecting it to Lt Collins St. This laneway was christened Block Place and quickly filled with shops, making it a de facto extension of the original arcade. Its exit being directly opposite the Royal Arcade, it provided covered walking all the way from Collins St to Bourke St.
On top of this, an adjacent building also became part of Block Arcade for a time. Built as the Athenaeum Club in 1890, its ground floor was cleared and filled with boutiques in 1930. It was then connected to the arcade via the removal of a shopfront and named 'Block Court'. It remained like this until the 1990s when the shop was reinstated and it was again closed off from the arcade. Today the ground floor has once again been cleared and filled with boutiques, but it remains a separate entity.
The Famous Shop of the Block Arcade
Of all the shops in the current arcade Hopetoun Tea Rooms is by far the most historic. It was established in 1894 by 'society girl' Miss Chrissie and quickly became a place where she and her society friends went to escape the madding crowds of ordinary tea rooms. Sounds a bit snobbish if you ask me, but this cafe has survived and transformed over the years to become a Melbourne legend.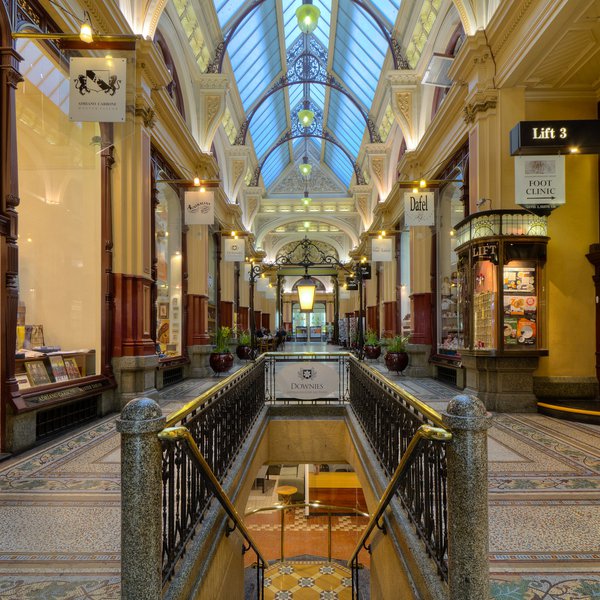 Interested in finding more places like this? Try one of our Melbourne Scavenger Hunts - untangle cryptic clues as a team, as you are taken on a journey to the most unique, unusual and bizarre corners of Melbourne and beyond!