Want to know more about London's many burial grounds? Read our guide to the top 5 London Cemeteries 
History of Bunhill Fields
Just 0.5 miles (1.6 km) north of Moorgate, the Medieval entrance and exit of the Roman-built London Wall, lies Bunhill Fields; a dissenters' burial ground steeped in London's religious, political and social history.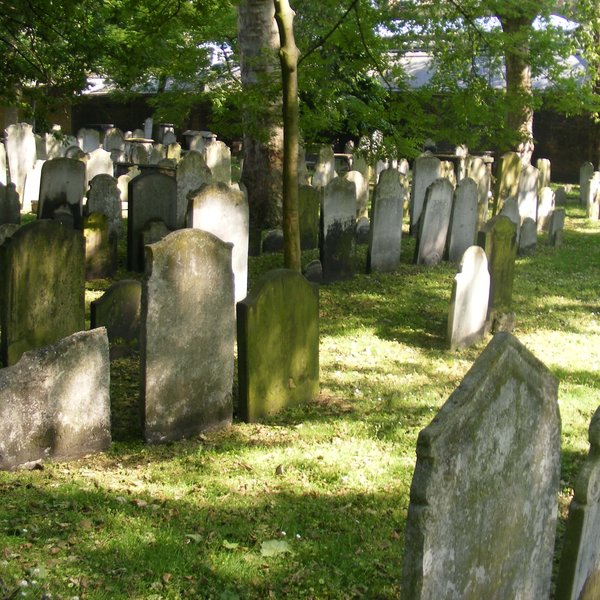 Bunhill Fields and The Reformation
In Medieval times, Bunhill Fields was nothing more than a four acre plot in the sprawling fields that surrounded the City of London. It belonged to the then newly-established St. Paul's Cathedral - a minor detail which would later be responsible for giving Bunhill Fields its name and a grizzly legacy. 
During the Reformation (1534-1603), England's churches were purged of anything deemed "popish". This included demolishing and emptying "charnel houses" - church buildings which contained skeletal remains which had been exhumed to make way for new burials. 
St Paul's charnel house was demolished and emptied; thousands of bones were loaded into carts and taken to their final destination of Bunhill Fields, where they were dumped en masse and covered in a thin layer of soil. The sheer quantity of these bones was enough to create mounds large enough to form hills for windmills to stand on.
As a result, Londoners began referring to this ghoulish spot as "Bone Hill Fields", which over time gave us its present name: Bunhill Fields.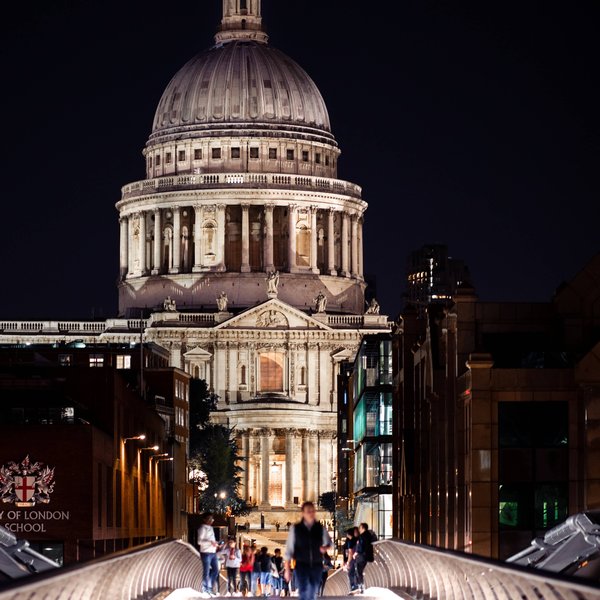 Bunhill Fields and The Civil War
Less than a century later, London was catapulted into fresh turmoil. First came the Civil War (1642-1651) which saw the rise of Puritanism, led by the Republican Oliver Cromwell (whose grandson would later be buried in Bunhill Fields). 
After the Restoration of the English Monarchy in 1660, London and England as a whole shifted into a new religious era. 
The Church of England was reformed, though non-conforming ministers continued to preach secretly in their homes. To put an end to this, a collection of penal laws which forbade religious dissent entirely, known as the Clarendon Code, were passed and Presbyterian, Baptist, Unitarian and the newly-formed Quaker ministers were imprisoned.

One such dissenting minister, John Bunyan, was imprisoned from 1660 until 1672. Bunyan's legacy would later be immortalised at Bunhill Fields cemetery, where his impressive tomb stands to this day.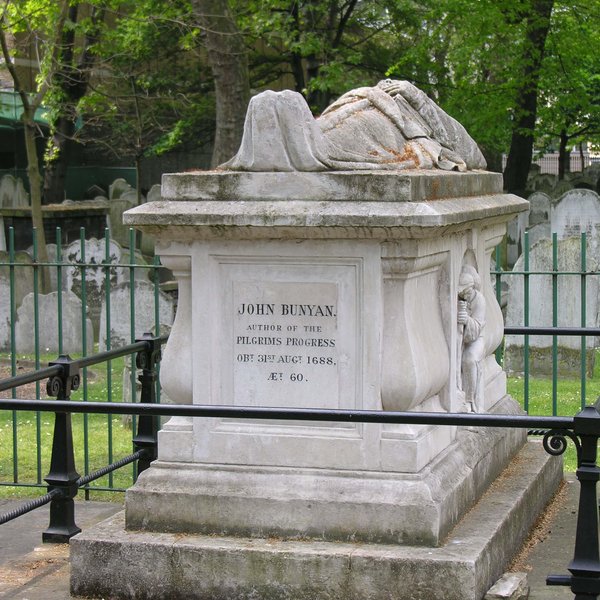 Bunhill Fields and The Great Plague
At the same time as condemned dissenting ministers heard doors being locked behind them; London heard the faint rumblings of something much, much worse.
St Giles in The Fields, a suburb sandwiched between Tottenham Court Road and Shaftesbury Avenue, was the first in London to experience The Great Plague. Reports of horrific symptoms began to emerge, and by the end of 1665, official records stated that 68, 595 Londoners had been killed by The Plague.
The grimness of the disease is perhaps best illustrated by the author Daniel Defoe, another main character in the story of Bunhill Fields, who wrote:
"This is a world of corpses strewn in streets and pits, yet in the deadcart itself a drunken piper wakes up to cry, 'But I an't dead tho', am I?'"
The Great Plague exacerbated London's already ailing infrastructure. Vast numbers of corpses needed to be disposed of quickly to prevent the spread of disease; as a result the process was so rushed that most plague victims were hastily buried in unconsecrated ground.
One such plot of unconsecrated ground chosen as a plague pit was Bunhill Fields, though whether any plague victims were buried there or not remains unclear - no records were made if they were.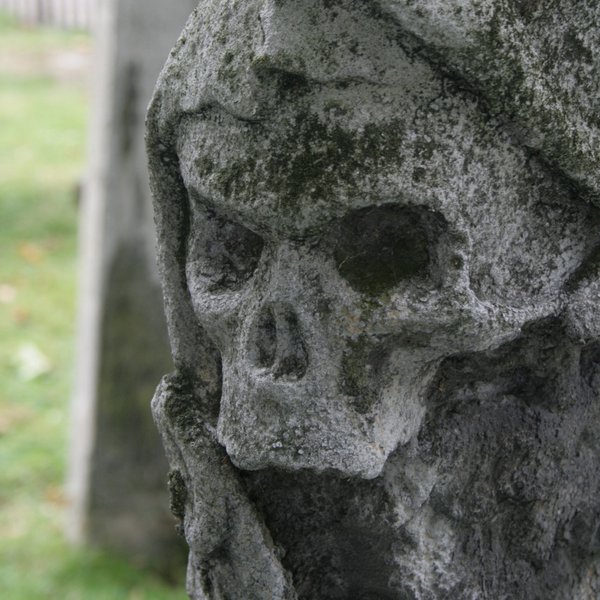 Mr Tindal's Burial Ground
By the spring of 1666, the number of deaths associated with the plague had dwindled considerably. 
A possible reason why the Plague ended as abruptly as it did could be due to the Great Fire of London which started in Pudding Lane. The fire decimated much of the city's infrastructure and with it, its considerable rat population, halting the progress of the disease in infecting new victims. 
Years of political and religious turmoil, a nationwide plague and a devastating fire in the capital had left London in economic dire straits. 
No doubt recognising a business opportunity, the leaseholder to Bunhill Fields during the 1660s, William Tindall (sometimes spelt 'Tindal') started a new venture: selling burial plots to nonconformist Christians. 
Since the ground at Bunhill Fields was unconsecrated, Tindall didn't have to work hard to persuade nonconformists.
For a fee, anyone could be buried there and from the 1660s until 1852, an estimated 123,000 nonconformist Christians had been laid to rest at Bunhill Fields cemetery.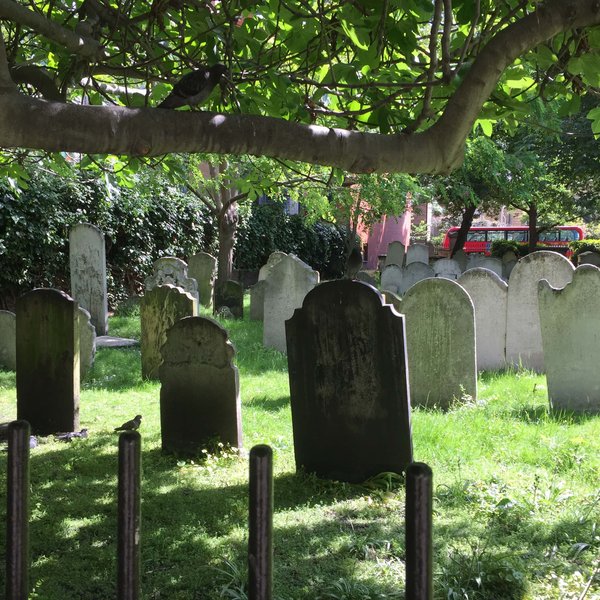 Bunhill Fields Famous Graves
As you might expect, many of Bunhill Fields' famous graves bear the names of people who are still celebrated today for various reasons. 
But perhaps even more intriguing are the graves of people whose names you won't recognise, each telling a fascinating story from beyond the grave. Here are just a few examples:
John Bunyan (1628-1688)
A prolific English writer and Puritan preacher, John Bunyan is one of the most famous names to be buried at Bunhill Fields. During his life, he wrote over 60 titles - many of them sermons. 
The Anglican Church of Australia honours him on the day of his death, the 31st of August.
Dame Mary Page (circa 1672-1728)
Although not a notable name during her lifetime, Dame Mary Page's tomb bears one of the most interesting inscriptions in Bunhill Fields cemetery. 
On the reverse side of her tomb, visitors discover that Dame Mary Page is the first recorded sufferer of Meigs syndrome. Her treatments and bravery are described in detail:
In 67 months she was tap'd 66 times, had taken away 240 gallons of water without ever repining at her case or ever fearing the operation.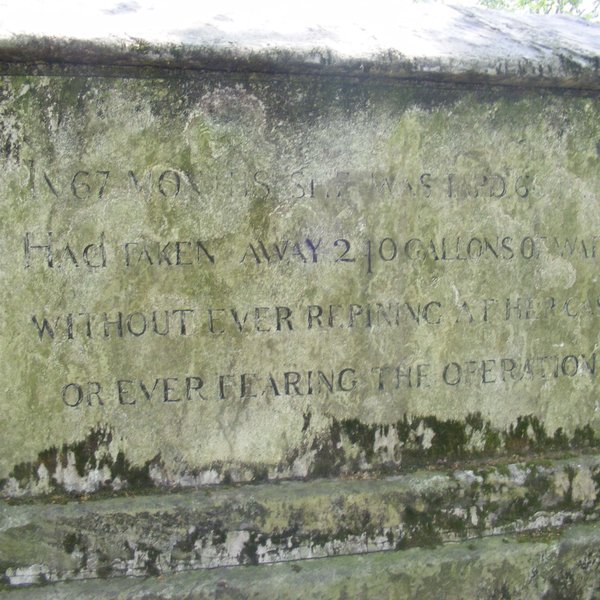 Daniel Defoe (circa 1660-1748)
The notable author of Robinson Crusoe was buried in Bunhill Fields, apparently under the wrong name of "Dabow". Defoe would later receive a larger, grander monument during the Victorian era which had been crowdfunded by a Christian children's magazine.
William Blake (1757-1827)
Today, William Blake is revered as a creative extraordinaire: as a poet, painter, author, and printmaker. At the time of his death, barely anybody had heard of him - and those who had labelled him as mad. 
Blake was first laid to rest in an unmarked mass grave at Bunhill Fields cemetery, and it wasn't until 2006 that two members of the Blake Society uncovered the exact location of his remains. 
Fans from all over the world contributed money towards an official memorial to Blake. The new memorial was unveiled in 2018 and features a quotation from Blake's most famous poem 'Jerusalem':
"I give you the end of a golden string; Only wind it into a ball, It will lead you in at Heaven's gate, Built in Jerusalem's wall…"
Want to learn more about William Blake? Read more about William Blake's house here!

The Best Way to Visit Bunhill Fields Cemetery
Bunhill Fields cemetery is just a stone's throw away from Old Street underground station, which incidentally is the starting point for our outdoor exploration game - Shoreditch Shuffle! 
By playing along, you'll be introduced to some of the most intriguing trivia about this hidden gem as well as many others dotted in and around Shoreditch. 
Complete challenges, solve riddles and answer trivia to reveal the secrets of Shoreditch - like an escape room, but outdoors! 
The best part? We'll recommend top-rated pubs, cafés and restaurants and give your team the chance to earn rewards by competing on our leaderboard.