1) Highgate Cemetery
In a game of word association, Highgate Cemetery wins the creepiness contest with little effort. For years, Highgate Cemetery has been associated with satanism, sex rituals, vampires, Dracula and duels; making this Victorian London cemetery as terrifying as its history suggests.
On the other hand, it's also oddly beautiful. Victorian reports about the dilapidated state of the cemetery have long since been remedied, and it's now a great place to do a bit of grave-reading and for having a stroll among the resting souls. 
Of course, you could always go full Victorian by stopping for a picnic amidst the ghouls and gravestones. And don't forget to pay a visit to Karl Marx's big stone head whilst you're at it. Find out more here.

Fun Highgate Cemetery Fact: In 1970, around 100 people gathered in Highgate Cemetery searching for, according to the Newspaper The People, "an un-dead Satan-like being". One of the searchers, a "Vampire Expert", was a school teacher from Essex called Alan Blood.

2) Crossbones Graveyard
During Medieval times, sex workers were only permitted to operate in one street in the City of London: the aptly-named Cock (Cokkes) Lane in Smithfield. London sex workers were distinguishable by their yellow hoods, a legal requirement which separated them from the rest of female society.
Outside the City Walls, Southwark was home to 18 'bathhouses' known collectively as the 'Southwark Stews'. These establishments offered food, bathing facilities and 'female company'. The bathhouses were run by Flemish women, who, quite miraculously, mostly rented their premises from the Bishop of Winchester. This gave rise to Medieval London's sex workers' nickname: "Winchester Geese".
When the sex workers died, they were buried in Crossbones Graveyard, an unconsecrated burial ground that from the beginning was associated with the 'lowest' echelons of London society. 
By the Victorian period, Crossbones Graveyard was mainly a place for paupers to be buried in. In 1849, the Greenock Adviser described the burial ground thus: "the air is pestilential, but burial is cheap".

Find out more about Crossbones Graveyard here.

3) Old St Pancras Burial Ground
Tucked beside one of London's busiest railway stations, Old St Pancras Burial Ground has a rich and fascinating history, making it a worthy candidate for one of the top London cemeteries you can visit. 
Firstly, one of the most remarkable things about Old St Pancras Burial Ground is its great age: it was first used as a burial ground by Saxons, and between 1689 and its closure in 1854, an estimated 88,000 burials took place there.
A visit to Old St Pancras churchyard has also become a kind of literary Mecca for classic, Victorian book-lovers. It is the birthplace of Frankenstein (Mary Shelley spent much of her youth here, mourning the loss of her mother, Mary Wollstonecraft) and also has links to Thomas Hardy and Charles Dickens.
Aside from its literary acclaim, Old St Pancras Burial Ground is also famous for being a rare Catholic cemetery following the Reformation. 
Find out more about Old St Pancras Church here and Old St Pancras Burial Ground here.

4) Kensal Green Cemetery
The first to be built of the "seven cemeteries of London", Kensal Green Cemetery was the pioneer cemetery to live up to grandiose Victorian mourning standards. 
While we tend to think of Victorians as morbid and slightly whacky mourners, their bizarre rituals were really an extension of the previous Georgian generation's idea of good mourning etiquette. A guide from 1823 instructs widowers to "weep, or seem to weep, at the funeral…vent a proper sigh whenever and wherever good wives or matrimony happen to be mentioned".
As Victorians expanded upon their ancestors' lavish and dramatic mourning rituals, it became clear that London's cemeteries were no place for highbrow mourners. London, in those days always in competition with Paris, saw the newly-opened Pére Lachaise cemetery and set about making plans to build their own equivalents on home soil. 
Opened in 1832, Kensal Green Cemetery was the first to accommodate this growing obsession of the upper classes and today it stands out as a large-scale, dramatic monument to all we expect of Victorian death rituals. 
Find out more about Kensal Green Cemetery here.
5) Mount Street Gardens
At first glance, Mount Street Gardens looks like nothing more than a peaceful London park. Almost…too peaceful!
In the 18th century, Mount Street Gardens was just one site in a much bigger project to provide London with new churches and burial grounds to accommodate the growing population of the UK capital.
In Mount Street Gardens' case, the burial ground preceded the church that was built on the site due to another building: a workhouse. Life expectancy in the workhouses was, unsurprisingly, incredibly low and the bodies of the destitute and the poor were haphazardly arranged in Mount Street Gardens. 
By the 19th century, however, it was deemed 'unfit for purpose'. Why? Corpses were vanishing…
Find out more about the graveyard and London's 'Resurrectionists' here.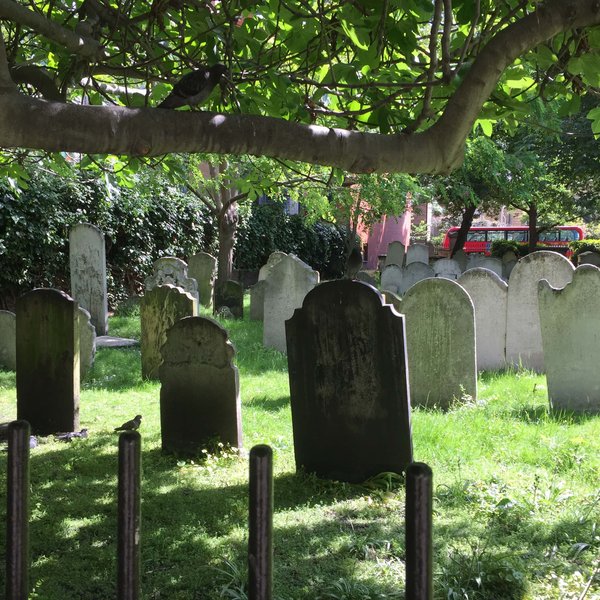 6) Bunhill Fields
Last but not least on our list of top London cemeteries is Bunhill Fields. 
From its name to its creepy history, everything about Bunhill Fields cemetery is deeply unsettling but also truly fascinating. Bunhill Fields got its name from an amalgamation of the words "bone" and "hill" since it is believed to be built atop a mound of skeletons dumped sometime during the Middle Ages. 
Bunhill Fields later became a nonconformist burial ground, where it's estimated that from the 1660s until 1852, 123,000 nonconformist Christians were buried. Lovers of William Blake flock to Bunhill Fields where the writer, printer, artist and poet is buried, along with Daniel Defoe, John Bunyan and plenty of other interesting characters…
Find out more about Bunhill Fields here. 
Want to find more curious facts about places in London, but don't know where to look?
All our London treasure and scavenger hunts, urban adventures, escape room gamesand walking tours are packed with secret sites and noteworthy nooks. 
All you have to do is team up with your friends, family or whoever to solve riddles, complete challenges and answer trivia to lead you on an unforgettable journey around London's most interesting streets. 
The best part? We'll recommend top-rated pubs, cafés and restaurants and give your team the chance to earn rewards by competing on our leaderboard.