Building work began on Neasden Temple in November 1992, with the biggest ever concrete pour in the UK. Two and a half years later it was completed.
At the time it was the biggest Hindu temple outside of India, and although its size has since been surpassed by other BAPS mandirs elsewhere in the world, it remains a sight to behold.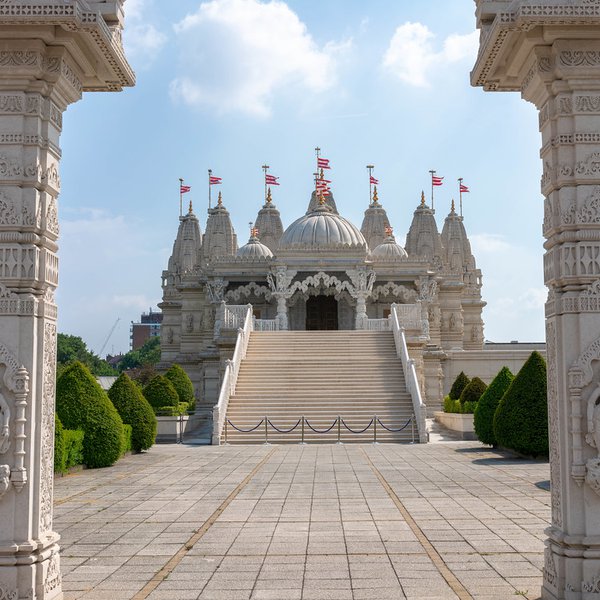 The Architectural Design Of Neasden Temple
In accordance with the Shilpa Shastras (ancient Hindu texts on art, design and architecture), the temple is laid out in such a way as to metaphorically represent the different attributes of God.
It is made out of granite, limestone and marble blocks, each hand-crafted in India by one of over 1500 craftsmen, and shipped to London to be put together. No iron or steel was used in its construction.
Its roof is made up of seven golden spires and five ribbed domes, all built around an elaborate central dome. Beneath each of the seven spires is a shrine devoted to a Hindu deity and attended by a resident monk.
Neasden Temple's Shrines
Everyday the shrines are opened before sunrise. Their deities are then prayed to, offered food and bathed before the doors are once again closed.
This is the first of five daily ceremonial rituals that together make up a day in the life of a Neasden Temple Deity. The final ritual involves dimmed lights and prayers recited over quiet music as the deities are lulled to sleep by their attendants. Once this has been completed the doors are shut one last time and the deities are left to rest for the night.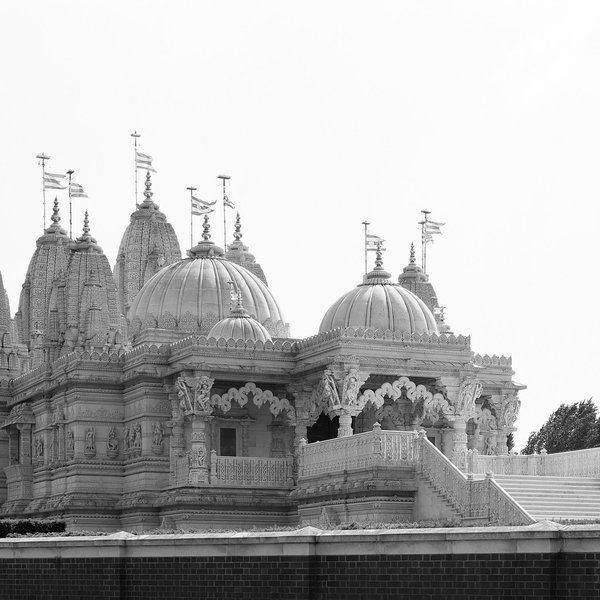 A Brief Pre-History Of Neasden Temple
Hinduism first really begun to take route in the UK following the 1947 partition of India. World War Two having created a labour shortage in the UK, Indians were recruited on mass over the next two decades to fulfil a variety of roles ranging from building railways to doing industrial labour to working as doctors.
As a result, various denominations of Hinduism grew prominent in the UK, not least among BAPS.
BAPS (or Bochasanwasi Akshar Purushottam Swaminarayan Sanstha) is one of a number of Hindu denominations dedicated to the worship of Swaminarayan, a supposed god incarnate who lived from 1781-1830.
It has been preached in the UK since the 1950s, and, in June 1970, its followers opened their first UK temple in a disused church in Islington, London.
In 1982, having outgrown their Islington home, they moved to a former warehouse in Neasden. Their community continued to grow and in the 1990s they began searching for another new home.
By 1992, with the help of BAPS followers in India and across the world, they had gathered enough funds to start work on what would become Neasden Temple, a project that would go on to cost a total of £12 million.
Neasden Temple Becomes A World-Renowned Icon
Since it opened, the temple's reputation has grown by the year. In 1995, it was issued a special award by The Stone Federation. This was the first of many such commendations. It has since been named 'Most Enterprising Building' (1996), one of Reader's Digest's '70 Wonders Of The Modern World', and one of Timeout's 'Seven Wonders of London'.
And, more than just an architectural marvel, its name has made waves for other reasons. In 2000, it was entered into the Guiness Book Of World Records for offering the widest ever range of vegeterian dishes at its October Annakut Festival.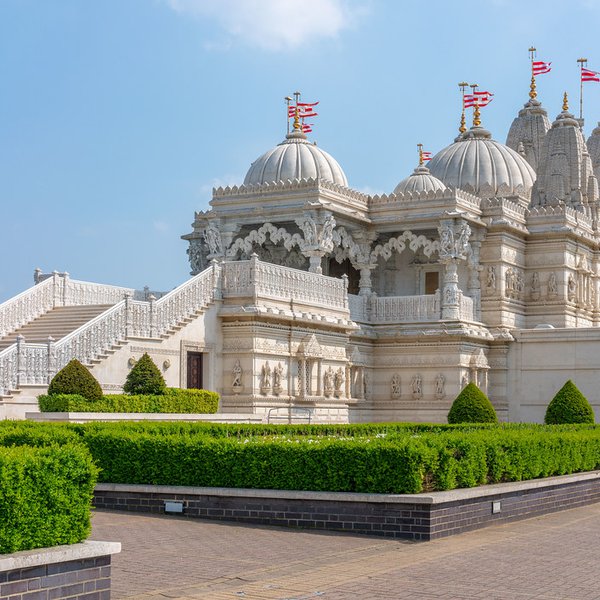 Interested in finding more places like this? Try one of our Treasure Trails in London - untangle cryptic clues as a team, as you are taken on a journey to the most unique, unusual and bizarre corners of London.