Fort Serapong is an abandoned military fortress that has become a popular tourist destination on Singapore's iconic Sentosa Island. Built in the late 19th century, Fort Serapong was one of four strategic batteries on the island to protect Singapore's main island.
With a history that encompasses everything from pirates and colonial history to World War II, Fort Serapong is an eerie reminder of the island's murky past.
History of Fort Serapong
The history of Fort Serapong dates back to the late 19th century when Singapore was 'founded' by Sir Stamford Raffles as a British free trading post. But hundreds of years before that, a thriving community lived and worked on what is now known as Sentosa Island, and in the years that followed British occupation, Fort Serapong bore witness to some truly terrible events. Read on to find out more…

Early 19th Century: The Beginnings of Fort Serapong
Following a treaty between Britain and the Sultan of Johor (South Malaysia) in 1819, Singapore became a valuable addition to Britain's colonial empire as a free trading post in Southeast Asia.
As an almost perfect halfway point between China and India, Singapore was ideally situated between two of the most valuable trading nations in the world. However, it was also vulnerable to attack.
There was only one thing to do: build military defences. The British chose Sentosa Island. as the ideal location, due to the tall hills of Siloso and Serapong, both of which had panoramic views of the western and eastern approaches of Singapore's main island.
The traditional Malayan name for Sentosa Island was "Pulau Blakang Mati'', or, "Island Behind Death". According to some sources, the name had been in use as early as the 1600s due to the number of fatalities caused by marauding pirates in the area. 
By the end of the 19th century, four military batteries had been built and established on Sentosa Island including Fort Serapong, Connaught and Siloso, the first of which was approved by the British War Office in the 1880s and became operational in 1887. 
On 28 May 1891, according to the London & China Telegraph, the Royal Standard was flown for the first time at Fort Serapong. The Civil & Military Gazette in Lahore reported that about 200 men had been employed in its creation, noting that a few of them were "coolies" (from the Chinese "kuli" meaning hard labour, they were impoverished Chinese immigrants who were used as cheap labour in the colony). 
1941-1942: Sentosa Island and Fort Serapong During WWII

The horrors of the Second World War (WWII) were felt on Singaporean soil on 8 December 1941, when the first Japanese bombs were dropped. Records show that 61 people and a further 133 were injured on the first day - and sadly, they wouldn't be the last fatalities or injuries the islands would experience.
A month later, at the beginning of January 1942, Fort Serapong became a direct target for the Japanese army. Consequently, the fort was heavily bombed and one of the 6-inch guns was damaged. 
Fort Serapong was manned by gunners from the Hong Kong and Singapore Royal Artillery during the Second World War, but no diaries show any record of any firing on Japanese targets, in contrast to the Siloso and Connaught batteries. Fighting between the local forces and the British military continued for a further month before they recognised defeat. 
Before they surrendered on 15 February 1942, the British engineers stationed at Fort Serapong attempted to destroy the battery and its guns to hinder the Japanese army's access to their weapons. 
However, nothing could be done to stop Sentosa Island's deadliest and most horrific chapter from occurring just two weeks later. What became known as the Sook Ching Massacre took place between 21 February and 4 March 1942, where between 40,000 and 50,000 Chinese Singaporeans were murdered on the Sentosa's beaches. 
By late April of the same year, the Japanese army had seized the nearby Blakang Mati Artillery Barracks and transformed it into a Prisoner of War (PoW) Camp, where PoWs from Australia and Britain were held captive and, in some instances, tortured. 
Fort Serapong After The War
Until 2 September 1945, Singapore remained under Japanese control. Ten days later, General Itagaki, along with four other generals and two admirals, signed the official documents of surrender at the Municipal Building in Singapore (now Former City Hall).
Singapore was returned to British control and Admiral Lord Louis Mountbatten, the British Supreme Allied Commander in Southeast Asia (and, interestingly, the late Prince Philip's maternal uncle). 
A year later, the Keppel Fire Command returned to Fort Serapong to control the military unit. Following the war, new technologies were introduced such as fire control radar, and a new ceremonial gun salute was also added to the fort. 
In 1956, all the guns at Fort Serapong became non-operational following the abandonment of using fixed coastal artillery defences by the British Military. Just under a decade later, Singapore achieved independence from Britain on 9 August 1965, and Fort Serapong was left abandoned. 
Independent Singapore Undergoes Changes and Fort Serapong Reopens

Naturally, in the grim aftermath of WWII, Singapore was still scarred by the brutalities of war and foreign occupation. Independence was the nation's first chance to make their own minds up about how they wanted things done, and that included deciding what to name or rename Singapore's streets, landmarks, and even islands.
In 1967, an advisory committee for the naming of streets and roads was established to help amalgamate Singapore's national identity. A decision was made to retain the English road names given by colonial predecessors, but Malay place names were recommended for new buildings or added as modifications to pre-existing English ones. Further, in 1968, street names were given standardised Chinese named streets, and English translations were given for Chinese and dialect place names. 
A year later in 1969, the Singaporean government held a re-naming contest for Pulau Blakang Mati, which became known as Sentosa Island that same year. After the atrocities witnessed during the war, the Government sought to eradicate the negative associations with the island and the chosen name did the job perfectly: "Sentosa" roughly translates to "Peace and Tranquility". 
Sentosa Island was chosen as the ideal location for promoting tourism, and during the 1970s, the island's villages and many of its other buildings were demolished and the residents moved to Singapore's main island to make way for the new tourist paradise. 
As for Fort Serapong, the military fortification was left abandoned but not repurposed as Siloso was (it became an interactive museum, which can still be visited today!).
While the Sentosa Golf Club, Coralarium, and Palawan Beach Lagoon opened up, Fort Serapong watched from its prominent position above the hill, slowly being swallowed by the jungle. 
Fort Serapong and Sentosa Island's Heritage Trail

As recently as last year (2022), Fort Serapong was included in Sentosa Island's Golden Jubilee celebrations to mark the island's 50th birthday.
Additionally, those curious about Fort Serapong can walk The Sentosa Heritage Trail, which allows visitors to explore the island's unique and chilling history - provided they stick to the path. 
Visitors are welcome to walk the entire trail at once or do it in smaller chunks: the trail around the Forts takes approximately 2 hours to complete on foot, and is around 4 kilometres in length.
Because Fort Serapong was left abandoned for a considerable amount of time, the site is still dangerous and visitors must exercise caution while walking around it. The buildings are off-limits and for your safety, it's recommended that you do not attempt the trail around the forts on your own. Tours are available for the site, read more about that here. More information about exploring Fort Serapong can be found here. 
Biodiversity at Fort Serapong
Incredibly, Fort Serapong has become home to many species of insect and bird life in the short time since human interference ceased. Reports show that sulphur-crested cockatoos and collared kingfishers now call Fort Serapong home, so keep an ear out for their calls as you (safely!) explore the area.
Explore Singapore with CityDays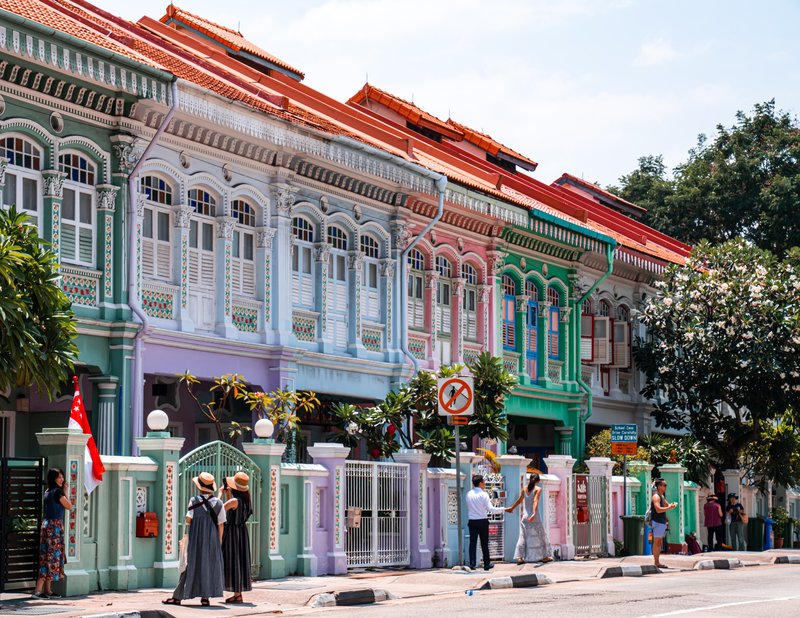 The fascinating city of Singapore awaits - and there's no better time to explore it than right now!
CityDays create fun, interesting and challenging trails around the world to help you immerse yourself in a city's culture, history and quirks. We'll show you hidden gems, share some fascinating facts and even offer you the chance to win prizes for your brilliance.
Want to find out more?

Check out all our available activities in Singapore here and embark on an adventure you'll never forget: CityDays awaits!